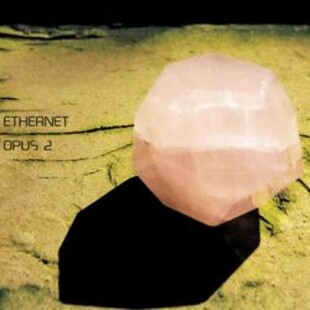 Quasi-drone with beats on the Kranky label. Like a quaaludes-slowed deep house experiment. Everything's very blurry. Sonic icebergs splinter in the background with a pulse slower than a heartbeat running beneath waves of drone and noise manipulation.
The press note that came with the album says it was recorded, "[...] during the darkest months of winter in the Pacific Northwest, between late-night shifts providing technical support for hospital operating rooms." It certainly has that heart-monitor throb throughout the majority of the album, and a certain clinical chilliness.
Ethernet is the recording name of Tim Gray. Studying his MFA (Master of Fine Arts), he wrote his thesis on the use of sound for control, healing and empowerment. At present he researches applications of sound for meditation and healing.
I'm in two minds about this release, Opus 2. It seems a tad lofty with such a title, though the number '2' makes me think it might be a dry joke of a name. Clearly this man has some intellectual chops, and perhaps his music is informed by that.
The thing is, it is pleasant but doesn't really do anything for me. The lilting sound is offset by beats or just bass pulses, but there's never that ambient drift without rhythm. Not quite relaxing, but nor do the sounds and the rhythms penetrate any of the tracks' sleepy sound beds.
Again it comes across like intellectual deep house or chill out. If only it had something about it, like the seminal Chill Out by The KLF with its fragments of samples and sense of journey. The overall sound of Opus 2 is quite artificial and leaves me cold. Not that research revealed anything to me but it feels like a laptop album - as in made all in machine on a laptop using VST instruments and effects - and therefore really feels like it has no organic sounds or space or place outside of software.
That's fine, but personally I do not find it interesting or inspiring. There's a dozen laptop-based-in-the-box ambient albums and EPs released each week, and there comes a point where they all start to merge into one another. Sure, ambient, I know, it's not exactly filled with hit singles or necessarily memorable songs. Something to be experienced. But experiences can be memorable or work on you in the subconscious, or surprise or delight in some way.
Opus 2 comes across like a sonic mulch, tracks separated by moments of silence but not delineated by any kind of uniqueness. There's no sudden sonic shift, no wild instrument that pokes its head above the continuous throbbing drone, nor are the drones necessarily conducive to sleep with their underlying pulses and beats. It doesn't, personally, take me to a place or set me in a mood or mental modus. It's just competent, uniform, and an okay piece of ambient sound-scaping. There's nothing wrong with it, you might like it, it might twitch those nerves of pleasure you leave open to this sort of sound, but it is not quite right for me.