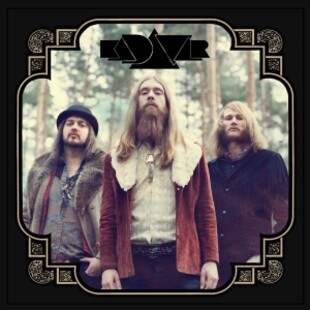 One of the first bands named to appear at next year's Desertfest. Lined up for Roadburn. And espoused on the ninehertz forums by people in the know. My interest in Kadavar was aroused, and one look of the album cover sealed it. I knew I'd like this. And lo and behold, I was correct, this is right up my street - 70's rock devotion wantonly unphased by any influence to have appeared in the intervening decades.
All Our Thoughts, the opening track here, is brilliant - doom and blues tinges with a Led Zep bravado. It's less dramatic than Witchcraft, say, and the vocals are played straighter than others - no OTT Ozzy aping here (Horisont, sHeavy, I'm looking at you). I can't quite nail who they remind me of - thoughts of The Groundhogs, Budgie, Cream come but depart quite quickly as there is that doom background - like on the head nodding riff of Forgotten Past or the none-more Sabbath of Goddess of Dawn.
Like many of the great albums of the period they worship, the album is short and to the point - only 33 minutes long, but with only 6 tracks there's enough room for riff and jam playfulness. It's not the strongest album minute by minute you'll hear this year, but it is fun, and I'm sad to have picked this up in the autumn, rather than at its summer release, as this would serve as great sunny, drunken evening soundtrack music.
For most this album will be a curious retro novelty, but for us ninehertz types, these cliches are our bread and butter - stoner rock has built around these foundations for years, and that's without focussing on Kadavar's fellow Europeans they resemble in undimmed nostalgic idolatry, such as Graveyard. The songs here are fantastic and evocative and, essentially, substance isn't defeated by style - but judging by the chops and sheep skin coats on view, it'd probably be an entertaining high score draw.