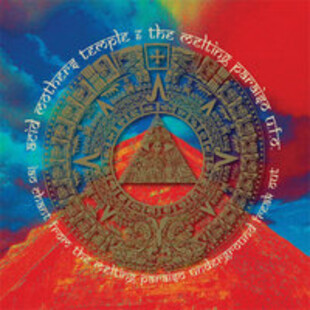 Both sides of this release start off as world music/ folk instrumentation that build into electric guitar heavy, psychedelic noise jams.
In other words the formulaic hippie fractal shit daubed from the same Acid Mothers Temple palette. It is less compelling than the stuff they were doing back in 2006 really, which had a more ethereal quality, it is incessant and the electro edge gets slightly annoying after a while.
The B-side consists of sub doom riffs, imagine Anton La Vey has broken into your bungalow and is petulantly rubbing his finger on the turntable dragging Sabbath backwards, but no hidden messages here.
To label this both 'underground' and 'freak-out' is a bit generous as it feels decidedly 'overground' and stage managed; a tried and tested formula.
If you've never heard krautrock or The Boredoms before it's worth a listen I suppose, but for me feels like it's less playful or interesting as their previous stuff and ends up a bit flat and monotonous.