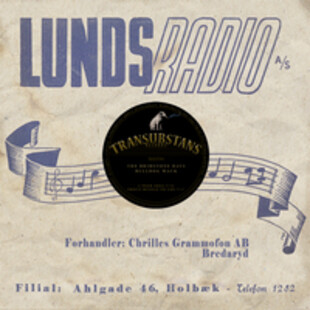 Transubstans is a label currently embarking on a 7" series of releases and this is their latest offering.
It's a hark back to the 70s for sure, with both bands drawing on classic rock in the extreme, we're talking flairs, sideburns and possibly tassles on sleeves here people.
Bulldog Mack kick off their uplifting side with the excellent Prove Myself To You which could be taken from an ELO live album. Ridiculously upbeat and anthemic, it's a slice of joyous and Sabbath-lite worship that will either have you boogying on down or turning it off in grumpy disgust. It's actually so addictive as a song that I've played this side a few times through. The vocals in particular are catchy to the point of syphilis and you'd be a stone-hearted grump to not enjoy this.
The Brimstone Howl have a more Thin Lizzy sound to their side, but I Need Soul has that pumping disco beat that indie bands kind of latched onto in the late 90s/mid-2000s. This is what the wrestling commentators of old would describe as a 'barn burner', it rocks along under its own steam. The lyrics pack in about a million cliches (I can't get enough/Give it to me now/Yeah!/Push it to the limit) but you won't care, at least not for the length of one side of vinyl. One for the stoner rock and blues-infused classic rock crowd and a pleasing diversion for those not of a rocking persuasion.