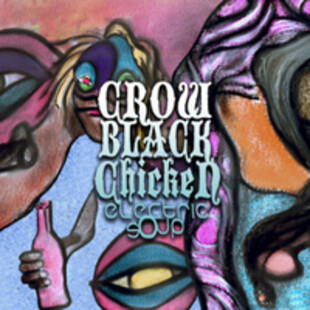 Crow Black Chicken are a laid-back outfit from Ireland who started out life as a blues band.
This is immediately clear as they rip open this varied and chilled-out album with the excellent White Lightning which has a hint of swagger about it, but for the most part is your standard laid-back, American-inspired rock that brings to mind Clutch's more downbeat moments and some traditional, if misanthropic blues.
The band themselves from the looks of promo shots are a bearded, long-haired bunch and have been plying their craft at every sweatbox going in Ireland and elsewhere in between in the last few years. Apparently they played seven sets at Glastonbury last year, which is pretty impressive, but you start to wonder if just one set would be enough...
Sure, the licks come hard and fast throughout, but it all tends to tread water somewhat. Unless you are prepared to enter that simplified, spaced out frame of mind, there's not going to be much to keep you interested here. Singer Christy has a rich, gravelly growl that's all his, but as is usual with blues and particularly this style of stoner rock, those Americanisms and cries of 'baby' appear a bit too often. If you can look past this, the album is a joy, but for this particular, over-fussy reviewer, it's been done far too many times before, even if the production job shines particularly brightly.
I can imagine these guys lighting up a bar either in their own county Cork or Clonmel or being equally at home onstage in some dirty roadside bar in the US, bottles being launched at faces and pool cues being cracked across backs while they plough on oblivious.
The underused guitar solo appears on here quite a bit, a rock trope that hasn't died a death in blues and CBC are resolutely holding onto it here with aplomb.
From the looks of things this band will be playing somewhere, somehow, forever. I intend to catch them live to see if they can match the excellent, if predictable template they have set out here, I suggest you do too.