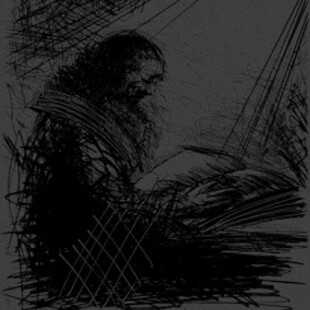 I enjoy Goethe's Faust play. On this EP, Agalloch have seemingly constructed the song to be a dialogue between Mephisto and Faust. "The 'lyrics' are taken directly from an English translation of Goethe's Faust. We used select phrases and film samples to create the narrative which, together, outlines the backbone of the original story." (Pitchfork interview). Unfortunately, I've not been given a lyric-sheet, no-one appears to have posted them online to peruse, and I'm not actually patient enough to even consider trying to decipher and transcribe black-metal enunciated words. A lot of music has been made based upon the Faust story - most notably the awesome operas by Berlioz and Gounod, and works of film such as those by Gilliam, Murnau, and Švankmajer have also been based on the tale. All worth investigating. Despite the high place in literature's canon that Gothe's play sits, it's a fun and not-too-taxing read. One day I'll attain the lyric sheet for this EP, and find out if Agalloch have done well with the material, but for now I'm limited to judging this on an entirely musical level.
Once upon a time, Agalloch were actually one of my favourite bands. Then a few years back I began to over-listen somewhat of their 3 main albums (up to that point), and had witnessed a not-particularly-impressive live performance in London alongside Dornenreich in 2009 wherein I realised that they didn't seem at all capable of replicating their awesome studio sound in a live setting, and it all came across a little clunky. I didn't find the previous full-length 'Marrow of the Spirit' to be up to their usual standards, so was somewhat tentative about this new release as I expected another disappointment - when I first heard 'Pale Folklore' and 'The Mantle' all those years ago, they were incredible to my ears, and 'Ashes Against the Grain' also grew to be well-loved when it was released in 2006; but since then the band seem to have somewhat lost their edge, though the White EP was a welcome excursion into new areas of pure folkiness (and was probably the first EP they'd released that felt like one could put it in the same sort of quality bracket as the full-length albums).
OK, enough narcissistic reminiscence and pointless excursions into my enjoyment of Goethe. The song begins with flitting between black metal, folk, and post-rock trilling; whilst the riffing at around the 6.30 mark sounds like something Dan Swano would insert into one of his prog-death epics. Unfortunately the structure of the song seems a little disjointed, and whilst it is indeed "the longest song Agalloch have ever written", it's also got some rather obvious transitions between totally different sections that make it feel less like a singular song than a themed multi-song EP - and one of Agalloch's strongest aspects has always been their build-ups - which aren't really allowed to develop enough here. I'm not huge fan of spoken-word interludes and quotes in songs, but they don't detract too much in this case as they don't crop up too often. There's nothing bad about the EP, but it doesn't really show me anything new about Agalloch, and never truly excites or amazes; though it is most certainly consistently solid, and a nice source of post rock with blast beats. The atmospheres don't manage to evoke magical power as they did upon older releases. It becomes even more obvious when you listen to their much older material immediately after listening to this EP (as I did) that it feels like Agalloch revisiting all their musical and pseudo-intellectual tropes without adequate care to ensure that they've created something particularly new and interesting.
If you like Agalloch normally, then you'll certainly enjoy this, but don't expect to be amazed by it; and if you're new to the band then it likely shan't give you too positive an impression, particularly if you've already cut your teeth on things like Deathspell Omega's 20-minute-epic-song EPs which pull off this kind of venture with much more power.
You can stream it yourself and disagree with me here: http://agalloch.bandcamp.com