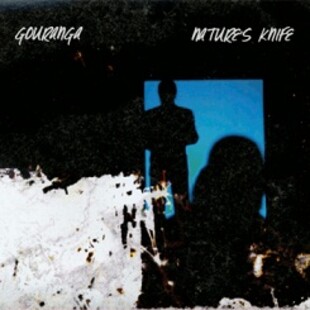 Aided by an extensive promo team of Hare Krishnas, Gouranga's name has been plastered on many a motorway bridge for years- it was just waiting for someone to adopt the name and reap the benefits- good work chaps!
Nature's Knife was clearly done on a limited budget; not a problem in itself but there are times when the tunes here are crying out for a fuller sound to give them the heavy-blocked swing which they need. Money constraints are the curse of many a band but needn't lead to weak recordings. I've heard plenty of rehearsal tapes which sound more alive and compelling than mega budget over-produced major releases. It's just frustrating when your first exposure to a band is a lacking the oomph which it is crying out for- I'm sure Gouranga could have achieved better sounding results without spending big money.
Song-wise, these Bristolians know their onions. Solomon Grundy sets the scene with a gentle build up; pensive drums and bass backing up a desert-baked guitar before the dirt and volume turn way up with a pounding dose of grungey stoner riffage. Vocals are in the laid-back half sung, half spoken style, complementing the dirty grooves being woven by the instruments.
Dinosaur Apathy ups the tempo considerably and puts a more unconventional twist on proceedings. There's still plenty of groove here, it's just at a higher pace and accompanied by a cider stained fist rather than hash scented fingers. The ghost of grunge past is present and casts a convincing shadow across proceedings- although I'm far from being a grunge connoisseur, it's good to hear the sound being preserved and twisted by current bands rather than another rehash of the whatever's 'on-trend'.
Petrol in your Hands keeps the pace up, permeated with pained vocals and a sense of frustrated anguish throughout its brief two minute duration.
Closing track Son of Sam eases in with a gently picked intro giving way to calm vocals and muted guitars building to a lunging riff worthy of any of the first wave of Sub Pop trailblazers. The grunge dynamics flower further as the quiet/ loud switch clicks back and forth. I can smell a checked shirt and bowl cut combination in the mix for sure.
The overall impression here is of a band with the tunes and enthusiasm to gather a decent local following but a recording which will limit their chances to convince the wider world that they need to pay attention.