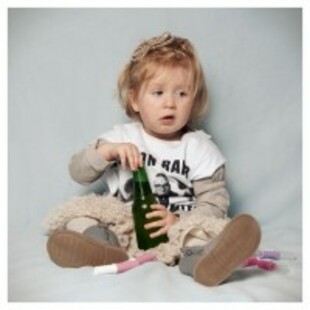 Another entry into the ever-rewarding Louder Than War 7" single series, this is a indie-pop slice of Dutch loveliness.
Sounding for all the world like Half Man Half Biscuit, it's quite hard to imagine these guys are from Holland at all. This could have arrived in the 80s at a peak of creative post-punk along with the rest of the Rough Trade stuff, you know, X-Ray Spex, Young Marble Giants and the like.
Apparently these guys have been on tour in the UK, gutted to have missed them but this 7" is enough to make me want to check them out even more. Emma Sofia starts off all dense and dark, but gradually reveals itself to be a raucous singalong. It does sound like it was recorded in some sort of empty concrete shell, the reverb on it sounds great. I can actually imagine 6Music going mad for this one, so Lamacq and co, get on this.
B-side Kevin In Cabbage Town goes a bit The Teardrop Explodes, but that's no bad thing, the lead singers vocals go a bit Kevin Rowland weirdly, the half-whispered or croaked verses, then the overly confident choruses work really well.
This series is full of treats, track them down now!