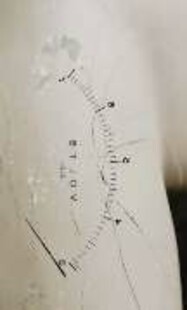 On a day as sticky as this, it's good to hear something that sounds like a quiet, shimmering drive into nowhere.
This is yet another release from the excellent Land of Decay tape label, with some incredible experience behind it. TQA is Eric Quach from Canada who has collaberated with all sorts of big names from our scene, an upcoming split release with Year Of No Light should give you an idea of what to expect. However Quach's sound is rooted in the ether, lone guitar notes peal out like branches against your face in the dark, while low-level hums of feeback and loops of subtle flickers of static and digital ephemera float around on the surface.
It's easy to just go all out with drone music, pull a Sunn0)) or a Birchville Cat Motel and you have to be able to back it up with the kind of visceral roar those artists have already set out. TQA approaches the sound like one would a feral dog, gently and with respect. He wrings sounds from the guitar with ease, but controlled ease, teasing often alien sounds from it, dropping in the ear-ringing stuff only sporadically.
What we have over two sides, is four tracks that are a soft and blissful roll through the grass. think 70s Dr Who via the pedal-driven splurge of Wolf Eyes, but slowed down to about 3% and listened to from under damp paper.