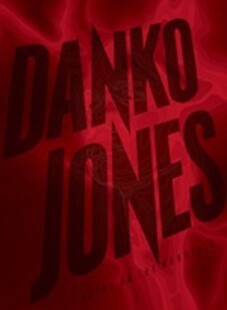 After 16 years it seems about right that Toronto's Danko Jones have released a retrospective DVD collection.
What we get is 2 discs of the high-energy history, on disc one, a 90-minute documentary, showing the history of the three-piece, but also exploring the brother-like relationship that Danko and his bassist JC have. Knowing each other seemingly forever, they've been through their fair share of drummers (but not quite Spinal Tap levels) and it shows their meteoric rise thanks to Swedish label Bad Taste. It does chart everything though including talking to producers, tour bookers et al.
Where it shines though is the music. If you've never heard Danko Jones' unique brand of garage rock via blues and Kiss, you're missing out. Live it's even better, Danko is one of the most assured frontmen you'll ever see, cocky and funny, offstage he is suprisingly softly spoken and normal. The footage they have is fantastic, constant touring means shows all over the world are documented, alongside studio footage from albums Born A Lion, We Sweat Blood, Sleep Is The Enemy, Never Too Loud and Below The Belt. If you've not heard any of these albums, investigate now. Never Too Loud actually features Pete Stahl and John Garcia on one track, fact fans, I didn't know this before.
They also tour with Motorhead and Guns n Roses (as well as opening for The Rolling Stones in Toronto), which seems like a genuine dream come true for the band.
Also included on this disc is a short film The Ballad of Danko Jones which is one of the cheesiest things I've ever seen, the guys in Danko Jones are not actors, and neither is Lemmy (who pops up to complain about shit whiskey), but it's an enjoyable romp nontheless.
Disc two features a cavalcade of live appearances and music clips, including the promo videos for most of the band's singles, including the excellent The Sound Of Love and loads more.
Even if you aren't a fan, this is worth seeing as it's a truly inspiring collection from a real workhorse of a band who have made things happen for themselves unashamedly. If you believe in DIY, this is what can happen if you really apply yourself.