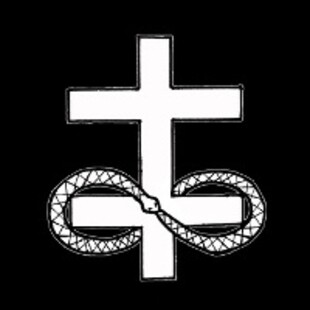 In the Company of Serpents are a two-piece with much more going on than that would suggest.
Neither are they Black Cobra or other duo copyists. If anything this sounds like a slightly more simplistic version of The Obsessed. Singer and guitarist Grant Netzorg (what a name!) has that too-much-wine-and-cigs voice that Wino and Lemmy share. It's that raspy, rattly-throated husk of a noise that sounds like a piece of their throat has fused to the other side, creating a two-toned union of air. Oesophegus comparisons aside, this is stoner rock of the highest order, but the opening track might put you in mind that this was going to be doom. As soon as the first 'proper' track begins in the form of Dirtnap it's clear that this pair are on the groove train. Not the funky kind either, the stilted, rickety one that stops at all the wrong stations.
What we have here then is a journey into riff country, the sights and sounds and even smells may be familiar, but it's worth reminding yourself of what makes this genre special. The production makes it appear as if the band posesses a bassist, which it doesn't. Actually, wait a minute, can we bottle this sound then? The geet sounds so weighty there really is no need for the four-stringed to apply.
Immolation proves this point even further, the delay between the end of riffs and the start of them could support the weight of a ful pint I reckon, so sinewy and gloopy are they that they could prove as tangible as the guitar tone. The drummer plods his way through these songs with little fanfare, but the whole sound relies on that slacker element. Who needs a showoff when the music is this driving?
You can listen to this for free here, but 'd advise buying the tape (yes tape! idiot) as it comes with a digital download link so you can play it on your iCar or iBike or iPlane as well as a crusty ghetto blaster. There you go, jokes about modern gadgets and 80s ones, have that.