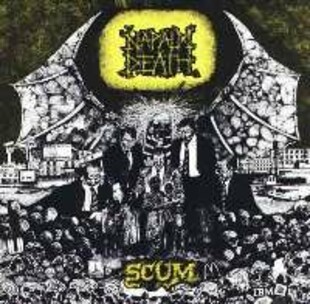 In our continuing series of making our ever-eager reviewer Gareth listen to metal and alternative 'classics' we handed him, among other gold standards of the genre, one of the most genre-defining records ever, a foundation of grind as we know it, Napalm Death's scattershot masterpiece 'Scum'.
We have a fairly healthy-looking list of future albums for perusal for the series, but feel free to suggest your own.
So what did Gareth make of this 1980s piece of noise and grind history? [Mike, Editor]
With all their lineup changes over the years is there even such a thing as Napalm Death? They have been called 'the Sugarbabes of death metal', although the 'babes at least managed to keep a lineup for long enough to record a whole album and have at least one bangable member at any given time, 2 things which eluded both early and every iteration of Napalm Death respectively.
Even I knew the story behind the band and this debut release. Recorded with 2 almost entirely different lineups, on a budget of approximately 3 squirrel pelts and a bushel of hay (I assume Birmingham in the late 80's still operated on a farm based barter system) and with a Guinness World Record holding song, the 1.316 second You Suffer. It's one of the reasons I chose it first out of all the albums handed over in the pub; if it turns out I hate it, the songs are mercifully short.
As it turns out, I rather enjoyed it. My first excursion into heavy music at the age of 11 was Metallica so I have a good tolerance for early thrash, even if it's not something I choose to listen to on a regular basis since turning legally old enough to wank in pubs.
In fact, besides the blast beats and the more agressive vocals the first batch of songs are remarkably close to old school thrash metal. To these ears, it has more in common with Slayer than with contemporary acts stuck with the 'grind' tag such as Narcosis or The Locust. The slower riffs are suprisingly melodic if rather obviously characteristic of the time. However, when the band stray from the template of 80's metal it's genuinely interesting to hear the roots of British grind emerging from the murky production; the growled monotone vocals, the temolo picked high gain guitars over blast beat drums, the breakdowns and the comically short songs.
The second part of the album (it feels wrong to call it the second half as it's around 6 minutes shorter, despitehaving 3 more tracks) is a slightly different beast. The old school metal influences are almost completely absent and virtually every song is a 40 second to 1 minute slab of 3 note guitar riffs and blast beats. The vocals of Lee Dorrian have more of a varied range than those of Nik Bullen (not hard admittedly; the ringing in my ears can hit more notes) but the music from the second lineup is simply purely uniform agression and speed, and probably is the more archtypical 'grind' of the albums parts, containing more tracks than it does minutes to house them.
It's similar to when my mum tried to explain to a young me why The Beatles were such a revolutionary pop band, and failing miserably as she was talking to a 12 year who had been listening to pop music on the radio for years and had heard countless bands influenced by them. As a modern grindcore record, Scum is not particularly innovative, terribly produced and understandably disjointed. As a musical artifact, it's fascinating and rightly deserves the reverence to which it's accorded. It's all the more impressive considering that it was produced by a bunch of skinny, denim clad Brummies and, given the bands instability, could very easily not have happened.