Ok, so this was my first ATP event and it won't be my last, three days of some of the best music you can hope to find this side of Supersonic Festival, it was just mind blowing.
Scalp-burning heat aside, this was a real treat.
FRIDAY
The cavern-like interior, dark and dankly lit at Alexandra Palace is at direct odds with its sweeping vistas of London from atop a hill in brilliant sunshine, but its really suited to the bands playing this opening night.
With a healthy crowd already in attendance, A Storm of Light belch forth a much-improved sound compared to their earlier rumblings. When they first came out, I found them slightly dull and overbearing. What they have morphed into is a majestic, dark and heavy beast that sounds almost like a less crust-ridden Kylesa, with that epic post-metal twist that Josh Graham evidently can't shake from his previous work with Neurosis and Red Sparowes. It's a great start to a somewhat heavy night.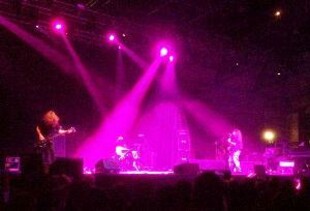 Yob are just nuts, with a frontman who is evidently in love with his guitar and holds it up like a deity at multiple points during their set, he knows how to wrangle riffs too. Far from slow and unmoving, their frenetic pace is a revelation, having never caught them before, I'm now a convert to their particular brand of raging, swirling density, it's just crushing.
I forgoe the black metal buzz of Wolves in the Throne Room, having seen them before and not enjoyed it for more than a few songs (they all sound very similar, no matter how good they are on record) and rejoin the swelling crowds for The Melvins. Complete with Big Business (thank Buzzo for that) they sound great. A number of complaints after said that the guitars were too quiet, but the vocal gymnastics and the dual drummer deal are still as jaw-dropping as ever and I'm transfixed. Perhaps the large stage and the even larger room mires their weirder idiosyncracies a bit too much, but it's still a marvel you need to witness at least once in your life.
The atmosphere is crackling with expectation when Sleep appear. Quite rightly too, as the first notes of Dopesmoker peal out, people are literally running to the front. I've not seen that kind of thing since the Ozzfests in 2001/2 when Tool or Sabbath played, amazing. The set roars by far too fast, Matt Pike seems to have swallowed a football and as a result, his belly is bulbous on his skinny frame, but you can ignore that while the songs are this loud and the riffs just keep coming. The tone is such that the walls seem to shake and every new section is greeted with cheers. It felt like they were just back and the intervening bands like OM and High on Fire were merely distractions. Fully breathtaking.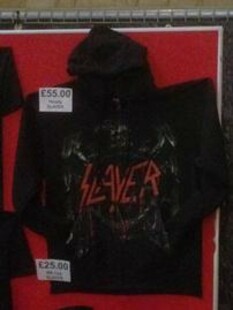 Slayer are a commodity now, with fans actually being bussed in just prior to their headline set, this particular reviewer cannot understand the one-track Slayer fan's mindset. Why ignore five bands you'd proably dig? Sleep were actually louder too. Having said that, they do put on a good show, playing selections from their voluminous back catalogue they warm up a crowd so fervent it fills the main hall of the palace. Apparently with crowds having travelled as far away as Japan and Australia, Slayer inspire devotion and no more than when they are pealing out the entirety of Reign In Blood. Angel of Death and Raining Blood sound just massive tonight, but with such a short timespan, it's a shame to see it over so fast. One question of people who were there though, who in their right mind pays £55 for a Slayer hoodie? Possibly even more ludicrous, £25 for a slayer beanie hat or cap? Things are getting out of hand, there'll be a Slayer zimmer frame at some point in the future.
SATURDAY
Considering they are meant to be sludge/stoner rock legends, you are reminded of how brief the songs of Floor really are. After half an hour of overdriven riffology which really does show the skeletal start of Torche, they have run out of songs. They resorttt to half-remembered tunes to finish, but that extra fifteen minutes could have easily been eschewed for a brief set. It's satisfyingly loud though, so it's all good.
Harvey Milk play an elongated and truncated set, bassist Stephen Tanner is swinging side to side in Rupert the Bear style pajama bottoms and Creston looks even more decrepit than the last time they were over with Oxbow. They showcase their edge-of-nowhere style well, veering between their rusty country-esque ditties and blowout doom stylings with ease. Always satisfying, they are, as ever, self deprecating. Creston asks the crowd at one point 'Who actually came here to listen to depressing shit?' Well I did chap and it did the job.
The almost-rock of Chavez has the room full of people but I can't seem to get past the frontman's Pavement-esque vocals. Off-tune and off-beat they suit the 90s sound well, but it leaves me cold coming from this band. Each track however seems to be welcomed with whoops of delight from the crowd, so I do persevere, but it's just a bit lop-sided for me and ends up becoming a monotonous trip to nowhere, shame.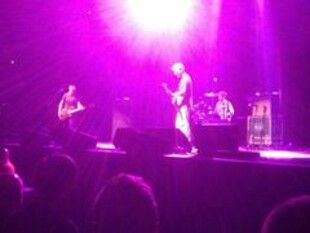 Codeine are perhaps the band of the weekend, bar Sleep. Their delicate, yet powerful take on guitar music obviously set the seeds for curators Mogwai and frontman Stephen Immerwahr looks as awkward, if not more so than he ever did. The lyrics are half-mumbled, half-sung in an open and honest way and the lack of movement from any of the three gives the crashing heaviness of songs like Loss Leader an added element that just blows you away. Guitarist John Engle looks even more like a science teacher than he ever did now, his grey hair and glasses giving him a gawky look, but drummer Doug looks to have not aged at all, when he takes the bass over from Immerwahr at the end, the frontman visibly shrinks and is actually shaking while delivering their closing tune. It looks like they are really enjoying playing these songs again, catch them while you can, this may be the last time you can see them all together. Mogwai asked endlessly for this to happen, so cheers to them for making it work, it was incredible.
Mudhoney simply do what they do, lots of distortion and frontman Mark Arm turning into Iggy when he puts down the axe. It's loads of fun but you can tell the older fans in the room are there for the nostalgia, not the more recent efforts, which is a shame as they stand up against each other really well.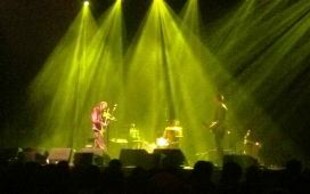 The stage is then set in blue light for the magnificent Dirty Three, frontman and multi-instrumentalist Warren Ellis (also of Nick Cave's Bad Seeds and Grinderman) is a mad Jethro Tull-like character. He rambles on coherently but making no sense, talking of making profits from car boot sales among other things. But when they get going, the trio reel out a miasma of jazz-influenced blues and it feels like being in a vortex of violin, guitar and chaotic drums. Combined with the heat and the surreal sight of the bearded and wild-haired Ellis kicking out his winkle pickers at any opportunity, its a strange experience, perhaps one to repeat in a smaller, more intimate room.
Mogwai close the day in their own, magnificent way. With a mix of recent and more archived stuff, the tone is celebratory. Seeming jovial as well as displaying the usual attitude, it's testament to their longevity that they are curating an ATP event a decade or more on from the first one. They thank the bands, in particular Codiene and it feels almost like a home-from-homecoming. ATP is as close to the band gets away from Scotland as an abode goes. Here's to ten more years of Mogwai bringing us some of the best music, both from their own talents and their home-grown playlists coming together at events like this.
SUNDAY
Forest Swords, Demdike Stare and Blanck Mass all suffer power cuts as the heat is obviously reaching the equipment as well as the punters. Forest Swords have a strange, other-worldly dubstep via low-level humming feedback and once they get going on the pacier stuff, it's captivating. Not unlike others (Cloaks et al) bringing the sound to noise soundscapes, their ouvre comes across dark and cold, but has some genuine emotion attached too. Perhaps more suited to gloom-ridden and damp basements, this is music to sort your head out to.
Demdike Stare are not a band to watch, after all, who likes seeing two guys staring at macbooks? However, their overarching feedback and digital flutterings go well with their disembodied videos which loop and jump to create a foreboding atmosphere in a steadily-filling venue. Their faceless presence adds an air of mystery but more variety could have saved this from becoming a ritual-like period of time that seemed to stretch on forever.
The more digital and electronica-driven Blanck Mass brings more urgency to the fore, colourful hypnosis plays out on the projection screens and music which brings in catchy loops to the mask of feedback means people are starting to stir awake and appreciate the nuances all three of this day's opening bands have been aiming at exposing. A recent addition to Mogwai's Rock Action label, this is one act to watch and chart as he weaves some sort of electronic curse over us all.
Siskiyou and Tall Firs bring some more grounded music back following this, which seems a step backwards in terms of intent for the day, but hey it's a Sunday right? Siskiyou manage to sound like a more alive Great Lake Swimmers (they feature that band's drummer) and Tall Firs make awkward jokes to fill the void of interaction with the crowd, their bleak, but likeable songs meaning people spread out on the floor in what looks like a conference suite in a hotel are rewarded for their sticking around.
Thee Oh Sees are like a breath of fresh air in what was in danger of becoming a lethargic day, their brand of Fall-like garage rock via California sunshine and The Beach Boys is infectiously catchy and effective at pumping up the crowd, it seems like summer has arrived. their songs seem to settle onto one groove and play out, but that's exactly what we were waiting for, awesome.
Archers of Loaf in the same vein roll out hit after hit, their drawl-like no-wave can sound at points like Pavement if they were less lazy, or Sonic Youth if they reined in the guitar abuse. Frontman Eric Bachman presides over the band in an elder statesmen role and the rest seem like they are having a great time. The sound is impeccable, meaning the guitar tone is set just as sweet as it was way back in 94 on Icky Mettle.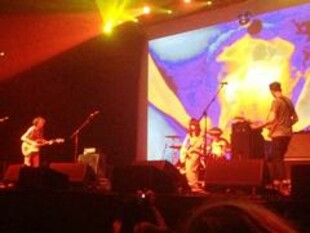 Yuk end my weekend, with some trippy camera/projection effects messing with my head and their 90s-influenced waster rock ploughing a furrow you thought was abandoned long ago. Some people can't stand them due to a bitter hate for copyist bands, but I'm of the unfashionable opinion that if it sounds good and kids find older bands through it, sod that. ATP proves there is a bridge between generations and each one thinks it is the best anyway, who cares when it plays out this well?
Photos courtesy of John Roberts and his iPhone.