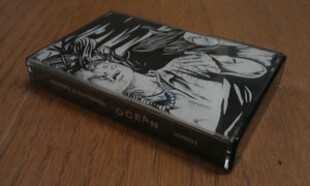 In keeping with the commendable Witch Hunter release policy which appears to be 'genre doesn't matter but quality does' comes this EP from the West Midlands' History of the Hawk.
Already available as a 7" on long standing Black Country label Speedowax and digitally from In At The Deep End, Witch Hunter have put out this short and to the point release by History of the Hawk in a blink-and-you'll-miss-it (100 copies) cassette version.
Coming from the impassioned and tuneful end of the (post) hardcore spectrum, this prompts favourable comparisons with influences from years gone by such as The Trans Megetti, maybe a touch of Refused and most tellingly Fugazi. There's more of a sense of urgency about proceedings than was often the case with these influences; HotH show a bit less restraint and more concentration on the energy. This is a good thing.
Opener X is the New Y builds up the tension and momentum, bursting forth with a well defined balance between rocking abandon and easing off the gas in preparation to let rip again. Throughout the six tunes on display the drums keep everything anchored and propelled as the bass and guitars lunge at the ears with a combination of riffage and staccato jabbing- there's a lot going on but it holds together well.
There are moments such as the intro for track 4 Little Parisians, where things take a considerably heavier, more rocky turn bringing to mind mid-period Planes Mistaken for Stars, whilst Social Heat has a more straightforward hardcore approach and commensurate 41 second running time. The ease with which the band straddle the different elements of their sound and bring them all together warrants a big pat on the back.
A bit of postmodern contextualism (ooh, get him) crops up in the title of closer The Map is Not The Territory; the obscurity of the title and the dirtier pounding quality of the song offers a hint of the kind of leftfield punk championed by Gravity Records in the early 90s.
The propulsive determination accented with quirks and discordant off-beats which pretty much defines post-hardcore (sorry to use such a whiffy description but that's the label this kind of thing tends to get lumbered with) will always be associated with the Dischord label's back catalogue. This influence is present here but it's all given an admirable twist that identifies this as definitely British rather than another bunch of yankee wannabes. Although the inspirations for Ocean are clear, the enthusiasm and different angle taken on the disparate parts make History of the Hawk an auspicious prospect for the future.
Listen to the release here.