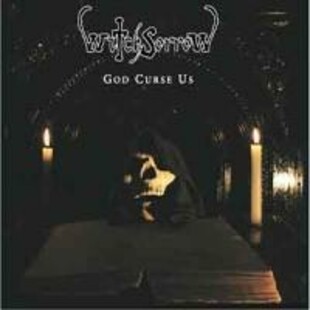 Witchsorrow are back, and have not cheered up.
In fact I'd go as far as to say Necroskull (aka Nick Ruskell) and his Troubled threesome are going for the 'Misery Loves Company and Dystopia Memorial Trophy' this time. Far more imposing than their debut, 'God Curse Us' has an even more Sabbath-i-fied feel that makes you pine for the 70s and the three day week.
Lyrics concerned with armageddon, misery and portents of destruction are nothing new for Doom Metal (which warrants capitalisation in this case), but here you can allow yourself to wallow in them. Nick has turned into a wizened version of Tiny Tim, turning that cloying, Dickensian line on it's head as he intones 'God curse us... everyone' on the title track, but the burning of temples, bright suns and the darkness of hell are addressed in good measure throughout the album.
New drummer Wilbers (as he likes to be called) takes the sticks from the departing Morrell, and the difference is palpable, although both fantastic drummers, Wilbers has fit in as if he has been on the stool for years. He pounds his way through the album like a man posessed, posessed of large arms.
Witchsorrow wear their influences on their sleeves, or they would if they had any on their denim cut-offs, festonned as they are with all manner of kvlt band symbols and logos, but the marks of several scene titans are felt all over the record, often all at once.
The misanthropic looming stare of Electric Wizard, the undeniable Sabbath worship and even some hints of Nottingham sludgemesiters Iron Monkey creep into the more rolling doom sections.
Breaking The Lore borrows heavily from the rhythms of Sabbath's Children of the Grave, its pace giving way to an inventive vocal pattern that strikes you right where it hurts and makes a change from the miserablist brunt of doom this album harbours.
To be frank, if you're going to listen to a band called Witchsorrow, there's something wrong with you if you expect some twinkling guitar plodding and some digital effects. This rings with the cutting production of Chris Fielding of Foel Studios, a man who knows his riffs, having been in the incredible Agent of the Morai and having looked after practically a who's who of metal these days. It was also recorded on Haloween, which adds to the majesty on display here, one to play as you watch the leaves turn, because everything dies, and one day, so will you.