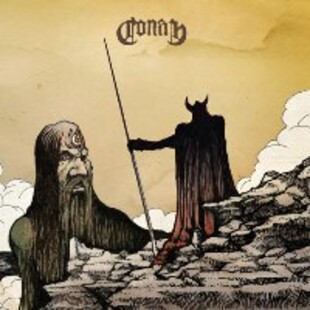 Crushing, killing and destroying all enemies of Crom in its path, here comes album number two from the heaviest thing to come out of the North West since Cyril Smith.
I've lost count of the number of times I've seen bands touted as 'the heaviest band in the world', it's so overused that its become a pretty redundant claim. That said, it would take something pretty exceptional to outdo Conan in this (battle)field as they have established themselves as something of a benchmark in the realms of the ultra heavy.
Their debut 'Horseback Battle Hammer' and split with Slomatics, alongside a string of triumphant live outings led to the threesome generating the kind of buzz only afforded to the very special or overhyped.
Any sceptics fearing that hype may be at play should have their suspicions shattered as the first lumbering riff of opener Hawk As A Weapon churns its way out of the speakers. Setting the tone for 'Monnos' as a whole, this is huge sounding, immersive doom that instantly grabs your attention and drags you along for its refreshingly succinct duration. Too often bands in this genre feel the need to put at least an hour's music on an album; here you're pummelled for just under 40 minutes and left wanting more
The heaviness and distinctive Conan sound comes from guitars and bass tuned so low (drop F??) the strings flap about the fretboard like overcooked spaghetti. In turn these are mangled through a mountain of overdriven Matamp valve power and set to a groove so deep that it's… well, less a groove, more like a chasm. If the heaviness of the sound transferred to physical heaviness, you'd need a fork lift truck to put this on your stereo. As with their previous releases, the exemplary recording work of Chris Fielding at Foel Studio keeps everything distinct and clear whilst adding an extra layer of muscle to the overall tone. This could easily have slid into the realms of an unfathomable mess but the sound is immense.
The overall effect has a similar evocative power to prime Celtic Frost; the tones, vocals and subject matter creating a distinctive otherworldliness to proceedings, dragging the listener to a land of ugliness, war and despair. Even when the overdrive and aggro take a breather on the contemplative instrumental Golden Axe, the foreboding oppressive air pervades.
Conan, as well as being monstrously heavy, have a distinctive knack of making their songs catchy, with massive hooks amongst the destructive lava waves of neckbrace-inducing riffs. Whereas many bands wallow in repetition in their search for ultimate doom, Conan throw in enough tempo changes, varying drum patterns and riff twists to maintain interest and a sense of purpose.
This is a defining album of doom and one which is bound to be seen as a landmark release in years to come, taking its rightful place alongside the likes of Dopethrone, Forest of Equilibrium, Dopesmoker etc. and moving Conan well on their way from cult to legendary status.