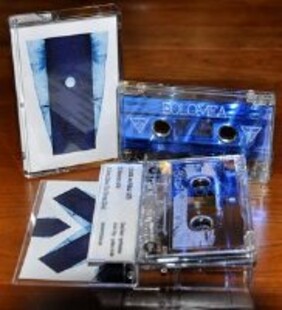 Another ambient tape release, this time from the Brave Mysteries label and it's a subtle sheet of calm.
The three tracks on this limited to 100 tape release take up around 30 minutes and for the most part, leaves very little impression. This is however, it's admirable point. Strings are barely touched and synths are gently nudged to create a barely-moving, but still effecting sound.
Not dark, more elegant, the sound created between guitarist Andre Foisy of Locrian and the synth's David Reed of Envenomist is one that traps your attention now and again with the slightest of sounds. The hush it creates is relaxing, but at the same time, draws you in slowly. It's like being the other side of a shed wall while a quiet, hissing tape of the likes of Rachels or LaBradford plays.
The feedback does grow at times, but it's not to noise levels, more of a low-level hum, so it'd be great to put on if you weren't in a total powerful, all-encompassing noise frame of mind. Ambient music such as this works so much better when it's done with some intelligence like this and it's a great diversion from the norm, with just guitar, synth and a few vocals in there too, this duo have created a smooth, ocean-like calm that you will probably find more of on each listen. This has also piqued my interest in the individuals' own projects, Locrian in particular.
Buy this now from the Brave Mysteries store now.