So to the Red House! Scary as hell Jucifer are in town and there's been a rumbling of activity as this has been announced.
It's a reasonably busy night at the Red House, a venue that has seen its fair share of stoner, doom, noise, hardcore and everything else in its time and I'm glad it's still about.
First up are odd ones out on this bill, but in a good way, Cry Havoc, who play a fun and solo-heavy d-beatish fug. They rattle along but remain rooted to the spot, the vocals are gruff and deep, which is at odds with the strangely posi music on display. I can't stop smiling, really love this kind of stuff, makes me pine for The Cricketers Arms and their cheap cider and Tia Maria. It's all over before too long, they have an amazing-looking LP out which I forgot to pick up, but I'd reccomend you seek them out.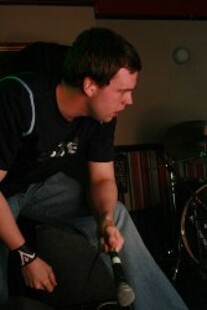 Next it's a restrained Beserkowitz, Fletch is clearly not feeling the sound or the stage as he looks frustrated all the way through, his vocals falter a little, but he does get into the swing of things later. There's no such wariness from the rest of the band, their feedback-squeal flecked paced take on sludge is rollicking when it gets going, but some older songs seem slower than ever and it's not the same unless Fletch is in full-on 80s miner mode as he has been in the past.
Bastard of the Skies are next and they look like a rag-tag bunch before they even take to the stage, there's a skater-looking drummer, a gothic looking female bassist and two hulking great bald blokes on the geets.
They play a mix of stoner rock on crack and some seriously depraved sludgey stuff and it's heavy-hitting for sure. A hefty, battle-scarred version of Don't Let It Bring You Down sounds great, but is a strange choice of cover. It works and I have to admire their confidence, it's somewhat of a sacred cow for some Neil Young fans.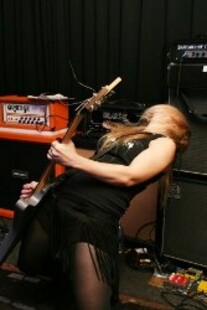 Jucifer are simply evil-sounding, Amber and Edgar, the husband-and-wife duo tour constantly and have been for over ten years and it shows. Perfectly in sync, the slow, but varied riffs that pour out of the speakers are hypnotic and vast. Edgar ploughs away at his kit, largely hidden from view while Amber arches her back like some demonic witch with a guitar. Her face obscured by flailing hair, she seems posessed onstage and their lenghty set garners much respect from the still-healthy crowd as they play on quite late.
The vocals are a screech one moment, a sweet, angelic voice the next, it's one of those unexpected sounds that is totally unique. More gigs like this please in Sheffield, we've been starved long enough.
More pictures can be seen on the Ninehertz Facebook page here.