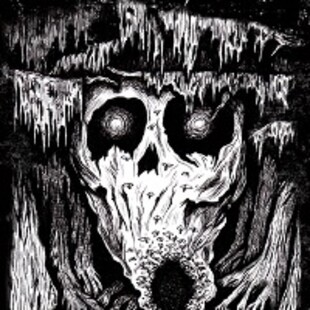 Describing themselves as 'Orlando Doom', Floridan newcomers Fire In the Cave announce their arrival with this free to download EP featuring two crushing 8 minute tunes of apocalyptic, pounding heaviness.
The doom tag can be slightly misleading as a reference; don't expect to hear Sabbath/ Vitus/ Wizard stylings here. To me there's a much closer affinity to the likes of Kylesa, Black Tusk, or Souls at Zero-era Neurosis, albeit a more raw and twisted take on the style. This is the churning sound of impending Armageddon, with pounding tribal drums, agonised yet impassioned vocals and the kind of scuzzy guitar tone and riffs that makes your ears feel dirty.
Elements of sludge, crust, even borderline BM slide in and out of the picture created by these Sunshine State headfuckers. There are plenty of tempo shifts, lurching from slow and mid-tempo pounding heaviness into speedy double-bass blasts and the occasional gentler almost post-rock sections offering a quick respite before segueing back into the maelstrom. What works so well here is that despite the changes, the songs flow very well and actually go somewhere. Too many lesser (and quite a few very popular) exponents of the style seem to spend too long just endlessly churning on . Honestly, both songs seem to fly by- 16 minutes for the pair seems like about 5.
Although there are only 2 songs, I've got to say this is an impressive introduction to a band who show a lot of potential; hopefully an album's worth won't be too far away, giving them scope to make an impact on a wider scale.