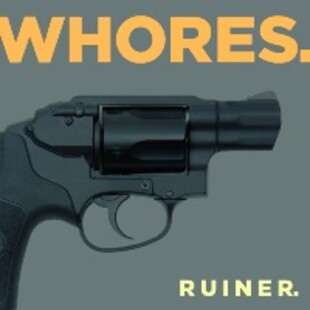 This is a brand new three-piece featuring the bassist from Norma Jean, but sounds more like a metalcore'd up Helmet.
Visceral and unforgiving from the very start, it bites and scratches itself into your conciousness straight away. It has that level of blunt force that Norma Jean harbour, but with a more bluesy swagger.
'Fake Life' has some amazing lyrics, coupled with some brutal riffology, meaning it's satisfyingly balls-out rock from the off.
With a groove that relies on a thudding sense of purpose rather than repetition, you can feel every beat of the drum, straight to your chest. It's good to hear a drummer pounding for all he's worth, none of this tickling of the snare, it's almost as if the sticks are millimetres away from the point of breaking the skin.
Speed this music up and you have Pig Destroyer, slow it down, you have the likes of Cursed et al, it occupies a satisfying middle ground that they can probably claim as their own.
One for the metalcore fan who has had enough of the same chord being hammered over and over, or for the mathcore fan who just wants simple addition rather than advanced calculus, punishing.