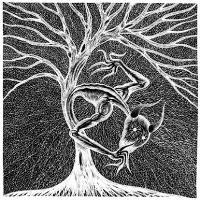 Mysterious but alluring, this is a collaboration between Kevin 'Pupilar' Ingham and Ian 'SDZH' Ainslie, Kevin has produced much in the way of noise, ambient and electronic meanderings over the years, even lashing electronics to post metal bands in the process, but to these ears Ian's work is new.
Tying Kevin's feedback and static penchant with Ian's apparent dub affectations means we have a sound that's totally unique, disembodied voices float through the static at intervals and are in turn interspersed with what sounds at times like an off kilter New Order, the beats are insistent and quite late-80s/early 90s in style, but that's a good thing. Equally, the synths on display here bring to mind pioneers The Shamen and other such visionaries, but to label this as mainstream would to be naive in the extreme. The clashing of styles so similar in attitude but of different schools works and at times they blend perfectly, at others, they collide like two different beasts wanting the same thing.
What this creates is a journey, played loud through bins this would sound massive, but is equally at home at low levels, such is its stalking malevolence.