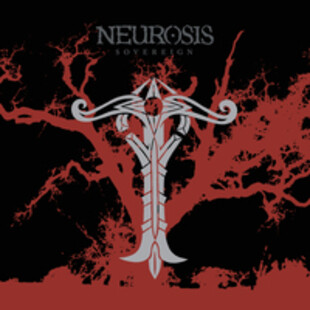 I've written before about my failure to properly fall in love with Neurosis. It's all the more unfortunate as they have 26 years worth of back catalogue to lose myself in, one such release being 'Sovereign', their first release on their Neurot record label, here re-issued with new artwork by Aaron Turner and a bonus track. If you're still reading, you either don't know this isn't a new album and probably aren't too fussed about the band or you're familiar with the record already and are wondering about the new track and artwork.
I'm listening to a digital promo copy so can't help you with the artwork, and the bonus track, 'Misgiven' isn't worth re-purchasing the EP for. Just shy of 7 minutes, it's a more experimental piece, vocal and guitar free and covered in horrible high-end noise that had me turning the volume down after a few minutes and detracts rather than adds to the release.
For the casual fan, this is the stopgap EP between 'Times of Grace' and 'A Sun That Never Sets' and as such it's actually a nice introduction to millenium era Neurosis, starting off with the almost unbearable tension and brutality of their earlier work and finsihing off with a more introspective and subdued sound that was introduced to their sound from the latter album onwards. For the most part, the traditional guitars and drums dominate and the electronic elements and piano don't make any significant impact until the closing half of the title track, which makes sense given the albums which bookend the EP. However, this makes the bonus track stick out more than it already does and make it feel more out of place and indulgent than it needs to which is a shame as the rest of the material is of the quality you'd expect from the band.
Overall then, an odd one. With the original EP hard to get hold of, the re-issue with be welcomed by fans who missed it first time around and completists. Occasional fans are getting a solid EP but one which might seem like too much of a step backwards given the 11 years which has passed since its release, and complete newcomers would be better served by getting hold of one of the bands full length releases (I'd suggest 'Times of Grace') and working their way from there. Fans will be glad to know that the recent flurry of re-issues isn't a death knell for the band, rather an indication that they will be more active on 2012, including more live dates and a new album.