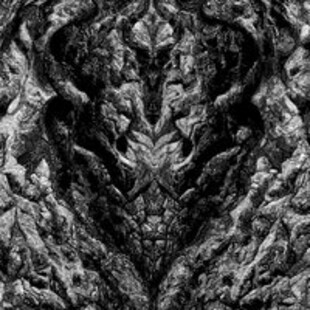 London-based dub-doom duo Necro Deathmort (NDM) are back once again to bruise your very existence on their sophomore follow-up to 2009's 'This Beat Is Necrotronic'. Matt Rozeik (riffs and knob-twiddling) and AJ Cookson (4-string-thunder and knob-twiddling) have brawled out nine bouts of morbidly eerie techno, laced up to the knees with apocalypse-echoing riffs, cavernous drop beats and possessing a fatter low-end than Kim Kardashian. This is the suffering electronic backdrop to your next ghoul gathering, flame-thrower genocide or some midnight yoga in an Arctic forest.
There really is no better word than the titular "bleak" to describe the hypnotic trance of the likes of closer 'Moon' or the other-worldly spasms of wrenching electronica behind 'Ûberlord'. It's the sort of abyss that makes you want to just curl into a ball on the floor and whimper to yourself in a vague attempt at self-reassurance. This halfway-house between the extreme stylings of industrial metal and skull-shuddering breakbeat funk is beautifully crafted; typically overlaying Rozeik's lethargic live guitar riffs over Cookson's programmed drum effects before inflicting mighty synthesised bass tones into the fray. Opener 'Jaffanaut' twists and turns between an initial ska-like swagger, through droning volumes of cymbal chimes and downtuned bass growls. 'In Binary' elevates the throb of the bassline up to a euphoric crush of three-note riffing and samples desolate cries of human despair.
'Temple of Juno' introduces a thump reminiscent of Nine Inch Nails' floor-filler 'Closer', before wandering down to a labyrinth of spook-driven gloom beats and attacking with crashing drops of fearsome intensity. The bass here sounds like the heartbeats of 1000 resurrected zombies rising from a giant crater of mass graves. The whispers of some long-lost ghostly choir add yet more paint to the tapestry, although I couldn't help thinking that this would be perfectly suited to female vocal tones to create a mysterious, almost underwater feel. 'Ûberlord' expands the awkward side of NDM, failing to punch through into any kind of musical pigeonhole, remaining as unsolved as a typical X-Files episode. The band venture further than they ever have before into the use of vocals with 'They Came in Peace'; a tinny back-beat reminiscent of mid-90s house giants Fatboy Slim or The Chemical Brothers gives way to the softening warm embrace of nymph-like pixie-verse.
After this almost beautiful interlude, the beat is cranked up once more into the cosmic abandon of 'Devastating Vector' – not as lethally bombastic as its title suggests, but progressive and morbid in a modern, dystopian manner. 'Blizzard' builds on this swarming darkness, raving its synthetic grooves into frenzy before subduing and crushing them with varying drum-patterns. This grisly ambience took me back to the opening scene of Blade, where Wesley Snipes happens upon a rave in a semi-used meat factory and embarks on a vampire slaying spree.
'The Heat Death of Everything' is this record's big climax for me, bringing the d00m atmospherics big time as Rozeik's Gibson SG dive-bombs into molten pits of droning anguish. Horrific screams and suffocating amounts of bass are thrown into the mix as the pace seems to ever slow to a near-dead crawl. This really does feel like you're being plunged into the heart of a dying star and trawled back out repetitively, like some kind of satanic dib-dab. Cookson ploughs the end of the track through fields of hellish reverb, before stumbling into the solemn eeriness of 'Moon'. Much like the recent Sam Rockwell film of the same name, this feels like audial loneliness, or the desolation one must feel when stood in a loved one's graveyard alone at dusk. The intervention of gentle cymbal beats and choir song adds some comfort to the emptiness, but the ending to the album is a sudden and spine-tingling one.
Necro Deathmort have upped the ante on their second bite at musically expressing torment. 'Music of Bleak Origin' is heavier, darker, deeper and more poignant than 'This Beat is Necrotronic' and carries the notion that a huge amount of craft has gone into the selection of sounds in building this barren depression. This is not a piece to be enjoyed track by track, rather, each of the nine cists merges to form one full length cancer of gritty, underground electric mire, and with their live show the two-piece enhance this to spectacular effect with a full smoke and light show. With a band name which could otherwise read 'Death Death Death', NDM can use whatever instrumental medium at their disposal, in any setting and with any company to sound truly grim. The future here, it seems, is gloriously bleak.