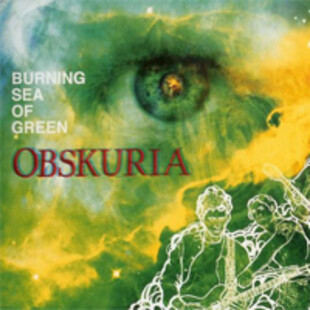 How cheesy do you want your prog? Slathered in brie or full on covered in Camembert?
Obskuria want to redefine the word prog it seems, featuring 7 members, they throw hammond organ, guitar, cello, gospel vocals and blues at you, often within the same song.
Great if you like this sort of thing, and a great distraction even if you don't, Burning Sea Of Green has a 70s charm that makes it seem other-worldly.
Songs do tend to wander into self-indulgence for long periods, but we can forgive that given the quality of the production and overall concept.
Songs like 'Somewhere' invoke visionaries like Pink Floyd and King Crimson, but with a modern stoner rock edge, I can imagine a smoke-filled room and an oil projector casting interesting shapes on a wall behind them while hippy girls dance along.
This album also features the weirdest cover of a Slayer song I've ever heard, turning the speedball metal onslaught of 'Black Magic' into a spellbinding, mesmerising organ workout, crazy but surprisingly engaging.
This is one for the cosmic crowd, should be played while cooking.