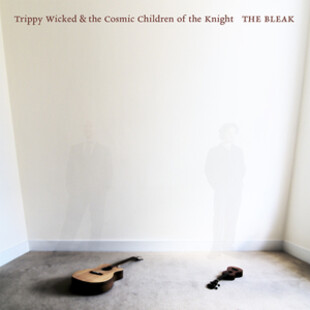 Trading in heavy riffage for introspective acoustica isn't always a great idea. In fact to these ears (as a one-time member of a rather lacklustre bedroom stoner band) deadly serious acoustic versions of heavy songs are often the very worst crimes against music, especially when the artists in question aren't jokily covering time-honoured classics, but instead pointlessly recycling and ruining their own material. With bongos.
Thankfully, this isn't the case with Trippy Wicked's acoustic EP 'The Bleak', which showcases brand new material in a stripped-back, folky fashion, a far cry from their usual bludgeoning riff-bound stoner-rock. Here, moustachioed drummer Chris West trades his sticks for a lump of wood of a different kind (ahem), strumming away beneath Pete Holland's vocals, cornet, ukelele and yes, tuba.
And bleak it certainly is, as sparse, lilting acoustic and piano melodies weave beneath Holland's occasionally almost (almost, let's not get carried away here) Warning-esque doom-and-gloom croon. It's well-played, well produced and whiles away a lazy summer's afternoon in fine fashion and luckily for all concerned, this EP contains not a single mention of anything resembling ethnic percussion.
Overall veering more towards the English meadows than the American desert in terms of atmosphere, you're almost left with the feeling that they should go the whole hog, dig out the caftans and big floppy hats and get Circulus on our asses and forget about amps altogether. As it is it doesn't quite go all out, but I'm hoping they introduce this more traditionally English doom-folk exploration into their regular material, otherwise this rather enjoyable little nugget could get forgotten with the rest of the Acoustic Versions floating around the annals of rock.