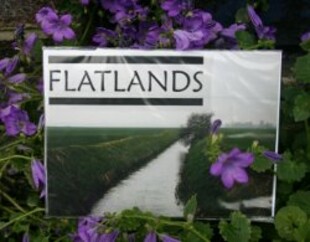 Lordy, it's been a while since Sheffield-by-way-of-Lincolnshire's heaviest last hit the studio (even longer if you consider their debut album Black Sluice was recorded a full year before it's release) and in the intervening months they've managed to shed a member, replacing the departing Si Baxter with the equally abbreviated Stu Hudson on bass.
Duly updated, what have they laid before us? With previous label Sound Devastation seemingly lost to the mists of time, these plucky boys have self-released a very special package of three new songs. Consisting of a CD that thinks it's a cup of tea (comes with a free teabag if you ask nicely), a unique photo of the flat lands themselves and little else bar a tracklisting and a sketch of a tractor, it's a slightly cumbersome, if heartfelt and DIY effort.
Although the rectangular sleeve might stick out a bit on your shelf next to the album and the Vermuyden EP, musically these three tracks are a smooth, seamless transition, distilling all the band's previous output into a coherent, weighty new direction. Anyone who still dismisses them as mere Isis/Pelican copyists should seriously reconsider their position - Aaron Turner and his horde of followers could never be this eccentric or essentially English-sounding. If it's possible to imagine The Smiths or Joy Division playing metal, this is what it would sound like.
Yes, there are titanic riffs, screams and quiet bits, but now there's singing (gasp!) and more weird and wonderful sound collages (ooh!) than before. This is the sound of a band who absolutely know what they're doing and what Flatlands is and should be. The production boasts a depth beyond the DIY packaging - this sounds like it was recorded in a month rather than a weekend - it's also the perfect length. Unlike the occasional exploratory patch on Black Sluice, nothing feels like it's starting to drag.
Bold, brave and unique, Flatlands are a desperately under-rated band who should be blazing a trail to the same level as the likes of Baroness, Kylesa or Isis themselves (there's a vacancy after all) and it's a crying shame that they're not. With a recent European tour under their belts, here's hoping a second album is on the way. If it's owt like this EP, it'll be bloomin' mint, like.