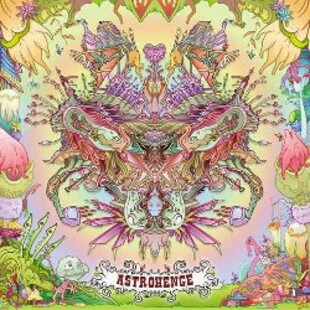 Step 1: Come up with one fucking awesome band name.
Step 2: Assemble a formidable line-up of talented jazz-metal musicians, minus singer.
Step 3: Write a set of Ferrari-speed, riff-drowned loony toons, and set about terrorizing London's pubs playing them live!
The 'Henge are one of the new breed of metal bands. Magnificently intelligent songwriting is at work here to create such mammoth bursts of speed-riffing, topped up with Adams-Family-like doom keyboards and gigantic, frenetic and brain-slammingly insane work from behind the kit. Yet, with songs going by titles such as 'Piefight', 'Origami Werewolf' and 'Night on Henge Mountain' (not forgetting that all are entirely instrumental!), and not to mention the 118-men headbands guitarists Matt Rozeik and Hugh Harvey wear on-stage, these dudes are far from taking themselves 100% seriously!
Astrohenge's eponymously-titled debut album has just been released via Eyesofsound, and is a masterpiece of Mastodon-esque crunch, Sikth-reminiscent speed and originality, duly complimented by calmer guitar landscapes similar in style and beauty to those produced by scene-saviours Russian Circles. All four band members seem to have not only mastering their instruments to deliver devastating noise with the timing of a Japanese express-train, but it is the sublime and authoritative skin work from former Eden Maine sticks-smith Kieran Iles that is the real bolt that holds this colossal silo of ideas together.
Only time will tell if Astrohenge continue to further push the boundaries of their crazed musical enchantment, as well as their ambition and position within the local pub-scene. But with a good backing, the right support slots and the continuation of jaw-dropping and forever memorable live performances, anything is possible for Astrohenge.