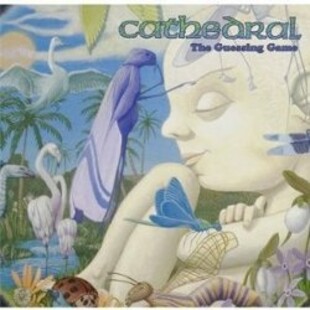 "20 years it's been, what will the future bring?" is the beard-stroking, and slightly downcast, ending sentiment to this, Cathedral's 9th stirring of the cauldron of doom.
Indeed, with the band all deep into their forties, a back catalogue which seems to have every base covered, a sluggish lapse in the persistent metal touring circuits and Lee Dorrian's ever increasing, all-too-important-to-the-genre Rise Above Records commitments, Coventry's finest riffians could well be forgiven for weighing up their options with heavy hearts. That said, if this is to be their swansong, I for one would not mind as much as if they had not dared create 'The Guessing Game'. Whatever you think about Cathedral, I believe it clear that this band are not ones to stand still chugging away on the same ideas, and when they state that an album of not JUST doom, but of prog too is on the way, then you'd better believe that's what's going to be inside that Michael Patchett-enchanted sleeve.
Make no mistake, this is very trippy prog rock at times ('Cats, Incense and Wine', 'The Running Man') but done the classic Cathedral way with plenty of Gaz Jennings' glorious hooks and sumptuous sing-a-long riffage to accompany Lee's trademark part-spoken-part-grumbled takes on all things obscure and thought-provoking. The album's instrumental opener 'Immaculate Misconception' is probably the best example of this juxtaposition, with a noodley-oodley King Crimson-a-like underplaying a staunch one-note crunching riff and thunderclap drums. The rest of the first half (in fact DISK of this two CD opus!) comprises the elements of Cathedral we have come to expect from their earlier successful albums, with the single-worthy 'Painting in the Dark' and the 'Midnight Mountain'-reminiscent mid-section of 'Death of an Anarchist'. The mood darkens for the smouldering and jagged 'Edwige's Eyes' (an ode to Italian cinematic horror-sex temptress Edwige Fenech) and the haunting, sprawling labyrinths of 'One Dimensional People'. Then we are once again beautifully swept off our Converse-clad feet onto the riff-rollercoaster of 'The Casket-Chasers', which fails to let up on the "race against time" groove, and 'La Noche del Buque Maldito (aka Ghost Ship of the Blind Dead)' with it's turbo-charged pedal-to-the…foot-pedal(!) guitars and sludgy lines of vox.
The end is ultimately that – the crushing mighty weight of apocalypse-laden doom played at the pace of a disabled snail on 'Requiem for the Voiceless'. The aforementioned 'Journeys into Jade' is a funny, but frank, boogie-train down the tracks of Cathedral's career done in classic Coventrian metal fashion (a little like Megadeth's 'Victory', or a less awesome version of that Aerosmith 'Rocking Rollercoaster' in the States!)
If you don't like Cathedral - this won't convert you, if you do like Cathedral - it will still make you simultaneously think hard and air-guitar bigtime, and, if you're an unassuming fan of prog and hard rock, you will really enjoy this collection. Finally, if this is their parting shot after all, then so long gents, it's been a hell of a 'Ride'.