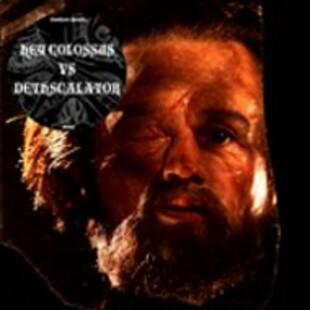 Hey Colossus on vinyl? Again? Yep.
This time the seventh wonders of the south team up with London/Brighton types Dethscalator for another dose of mindfuck what-will-they-do-next action.
Thankfully it's another surprise, the sound here rolls out of the speakers wrapped in the usual layer of fuzz but no actual SONG materialises for a while.
No matter, for what occurs is a stalking, bass-laden beast that starts the one-track, three-part composition with abstract drones and whistles before a frankly Wizard-like riff comes in all wonderfully doom with the addition of what sounds like bagpipes that works extremely well. Static swathes cut through the end of the track and make it sound like old walkie-talkie recordings, more of this please. The second part starts in a garbled, squeaking and restrained way before cracking into an all-out uber-phase-out that wouldn't sound out of place in black and white re-runs of Patrick Troughton Dr Who episodes. All in all, another inventive release from a band that seem to have total creative freedom and intend to run with it.
Dethscalator on the other hand, and other side, rip through their tracks with a much more fevered pace, the sludge via Jesus Lizard style they have grown into comes across as both a slap to the face and a filthy exercise in fuzz.
Vocals hold the monotony together with a drunken drawl that takes pointers from Eugene Robinson's growling, yelping and frightening lexicon. The music pummels away satisfyingly, but its the contortions that ex-Hunting Lodge vocalist Dan makes that keep the band interesting.
Song titles are pretty righteous too, 'Kicking The Horns Off A Bull' anyone?