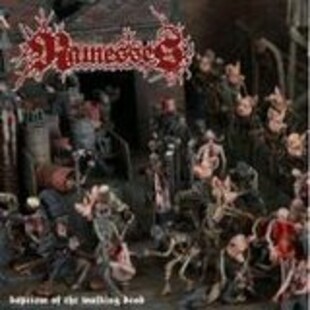 Ah…tattooed arms, dirty beards, top grade weed, cult horror films, Egyptology, painfully loud Orange amps and the beautiful Dorset countryside – yes, o' children of Tartarus, it's Ramesses time.
This recently released 3 inch CD EP illustrates just how brutally powerful and stunningly original these stoned fuckers are. Three mighty tracks clocking in at around 20 minutes of sheer metal bliss that blasts up your bottom like a gay porno stud on Viagra. The title track opens with a horror film sample I cannot place ("I made a pact of blood with you, the baptism of the walking dead" enunciates an upper class male voice) and then kicks in with a classic turgid and nasty riff. Adam's throat is in fine fettle, a huge rumbling grunt with a foul life all of its own. Ramesses have always had a knack of writing stuff that initially strikes the listener as extreme and savage, yet on repeated listens almost approaches 'catchy' (although they're not exactly the fucking Beach Boys, and I'm glad they're not). Essentially, these three reprobates are damn fine musicians whose love of quality music, whatever the genre, raises them to new and arse-kicking levels when compared to many of their peers. I find Ramesses most enjoyable when digested through my ipod (with a nice bottle of ale and a lump of mature cheddar); only then do the brilliant subtleties of their masterful metal become truly apparent.
'Another Skeleton' is truly exhilarating – yet again Adam's voice is incredible, able to actually sing without sounding like a pussy and able to evoke the voice of a denizen of hell at the same time. Mark Greening drums like he owns the arms of Geoff Capes (famous British strong man) and the evil rhythmic genius of crazy Keith Moon. Please soundman, don't mic his kit up – the Star & Garter will suffer structural damage. Last track 'Khali Mist' straddles the missing link between down-tempo sludge and classic rock, with a fine Tim Bagshaw solo that stretches out like, erm… a hot metal eel undulating erotically through the primal mire of your unconscious. If you love Ramesses then buy this now. As someone who owns their not too extensive back catalogue, I would say this is approaching one of their best recorded moments. Brilliant songs from a fast 'maturing' band (no, I don't mean they're getting boring), and I didn't even mention Electric Wiz…
Used with kind permission from The Sleeping Shaman.