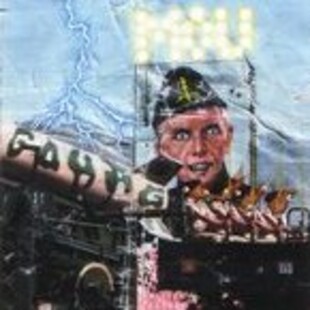 Many moons ago, Pete sent me a bunch of crap to review, which I haven't done. Until now. This is my 3rd day in swine flu quarantine and I sustained a quite severe penis wound last night (Tuesday, I think) as a result of the toilet seat shutting on my old chap when I was brushing my teeth. This scrape with the infinite as well as the psychosis bought about by Night Nurse, Tamiflu and Nurofen has given me the opportunity to finish these long overdue critiques of the pile of shiny opuses that have been cluttering up my living room and getting me in trouble.
First off, Men of Unitus. I haven't done any research into them because my bandwidth is currently being used for looking at boobs and stealing stuff off the internet and there's no press release with the record. None of which really matters because 'Gland...' is a fucking cracker and M.O.U. are a fucking wicked band.
If you like your metal made by angry and drunk sounding scumbags, then this is definitely for you. As with current shitbags like Gorse and Kong, there's a strong AmRep vibe underpinning this release which is fucking perfect if you like your music sounding like a mean pervert who touches inappropriately first and asks questions later.
The vocals on this album are a particular delight, sounding absolutely fucking demented so they do. The band behind these vocals are tighter than a duck's arse with their stoppy and starty bits and a sense of dynamics that makes you want to do a poo. Additionally, all the tracks (apart from album closer, the really annoying "'Kiddyspasms') is a gland pun, such as 'If You're Happy and You Know It Clap Your Glands' and 'Gland on the Run', which to some may sound pretty retarded, but sounds really fucking funny to me. The best track is probably 'He Thug the Gland' as it slows things down a bit for the lovers out there, serving only to increase the impact and brutality of this band's sound.