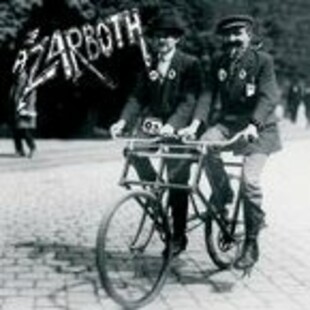 Lawks, I love the French, leading the world in many ways, but the musical output of this great country has been hit and miss. And that is being a little bit kind. Most French are a few years back and watching their equivalent of X Factor is fucking ball clenching.
Ok, now there are some INCREDIBLE French bands like Phoenix, Saian Supa Crew, Tryo, NTM, MC Claude Solaar, Louise Attaque and Daft Punk and the country gave us Jaques Brel, Django Reinhardt, Edith Piaf and Serge Gainsbourg who is a fucking genius. However, these people are all either dead singers who spat a lot or hip-hop/house/folky weirdness bands. France hasn't really been too overburdened by quality, homegrown metal, which is a shame as I'm sure it's only a question of the right kind of exposure if this release is anything to go by.
This collaboration between two rather sophisticated looking and irritatingly handsome Parisians is genuinely a fucking treat. Comprising of drums, vocals and baritone guitar, Zarboth are jazz inflected hardcore. But in a good way. There is a stockroom brimming with sick and discordant riffs which chime and weave against the truly shocking (shocking good, not shocking bad) drumming. Think Gene Krupa drumming for Cro Mags with David Yow on vocals. That's a pretty fucking killer combo.
This recording veers from psychotically angry to rather charmingly slipping a pinkie in the knickers of the listener which is a fairly confusing ride to be on. Final track, "Realize" is brutal and definitely contrasts with the slinkier and altogether more smoky charms of penultimate track, "Hear Me". Opener, "Addict" sets the tone for the rest of the record with its extended sessions of minimalist free jazz and mysteriously teutonic count ins. Perhaps it's a Dadaist thing that I'm too thick to understand. Either way, it works, sweet fuck, it works.
A criticism that can be levelled at bands like this is that their jumping on the arty two piece bandwagon which began with Suicide in the 70s and has continued with the monstrously overhyped Lightning Bolt and the harshly overlooked Hella. Balls. Zarboth add something that is their own. Their tunes feel like proper tunes whilst still being oddball and there is a genuine emphasis on making the listening experience as congruent and consistent as possible without veering off into the self-indulgent improv-noise territory which is a danger with this kind of tuneage.