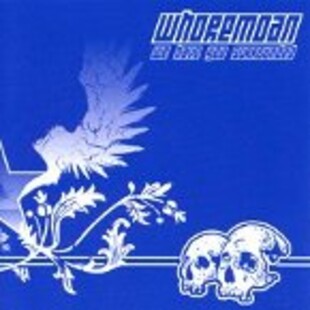 For sheer tenacity and dogged persistence these guys win every prize hands down!!! Since forming in 1992 in Essex, Whoremoan have carved themselves a one band cottage industry having self released several albums and selling an impressive array of merch via their website and EBay, All That's Heavy…etc. Having done all of this without the aid of any label assistance is pretty impressive and puts the D.I.Y ethics of most so called punk bands to shame.
So what do you get for 16 years of rocking for you hard earned money? I'll admit I've not heard anything by these guys previously so their development over the years is something of a mystery but Whoremoan 2008 style offers up a bullish mixture of stoner, punk and metal that is as dogged and insistent as the band's career!!!
The eight tracks on offer here are all delivered with an earnest belligerence that is pretty refreshing to the ears. Far from being jaded by years on the circuit, Whoremoan are every bit as vital and hungry in their delivery as any of the younger scamps snapping at their heels. Musically this operates at the more metal end of the stoner spectrum where technique is left at the door in favour of simplistic battering riffs, kind of like an Oi punk version of Orange Goblin if you can imagine that. This is basic but pretty effective stuff, these guys can obviously play but don't let technique get in the way of a kick ass riff and appreciate the value of a stripped down song structure.
It's not all rosy in the garden. As effective as the Whoremoan battering ram approach may be initially it doesn't really sustain itself as well as the initial impact suggests. There is little to really distinguish the tracks here from one another and there is nothing here that stands out as a "classic" or "great" tune. The songwriting is no frills for sure but lacks the killer hooks needed to really sink in. Similarly the vocals, although delivered with grit and conviction are a touch one dimensional in their bark-like-a-pitbull throaty roar. Melody is only really a passing Whoremoan acquaintance that they should really get to know better if they want to make these tunes jump out at you.
This is by no means a bad album but falls short of being a great one by quite some way. Still, full marks to the guys for attitude and enterprise…for that alone I hope this sells a truckload.