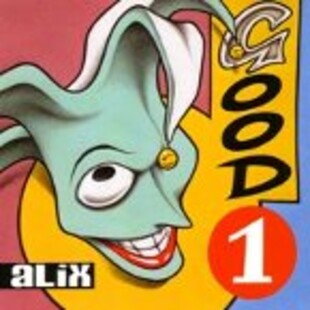 Oh lordy lordy. I don't really know where to start here. Usually, when I see that Albini's had a hand in something's creation, I stagger to the nearest corner and start wanking and crying like a sweaty palmed little chimp. Thing is, I really like about 65% of the sounds the band produce, the only real issue I have is the order they choose to put these sounds in. Anyway, this is my first introduction to Alix. Let's find out who the fuck they are. Hailing from Bologna in Italy, Alix released their eponymous debut recording in 1997. Since then, the four piece have supported Rage Against the Machine and Muse, as well as bands such as Hidden Hand, Pawnshop and Dozer.
Not wanting to sound like a big sexualist or anything, but my main personal bugbear with female fronted bands is that they tend to focus quite heavily on the fact that their singer has a big ol' fanny and that crucial second X chromosome. Why am I supposed to give a shit what gender your singer is? If I like a voice, I like a voice. I guess I'm not on my own there too. These bands achieve nothing other than trivialising themselves to the level of novelty and this, my dears, breeds laziness. Lazy songwriting, lazy performance, lazy fucking everything.
Unfortunately, Alix fall pretty hard into this category, describing frontlady, Alice's voice as a "stupendous mixture of Grace Slick, PJ Harvey, Chrissie Hynde and a female Robert Plant". High fucking praise indeed and, to be fair, she has got a really interesting voice although I don't hear any of these influences with the exception of the Peej Hizzle. She sings the majority of the album in English, through a strong Italian accent. It's rare that a vocalist can be charming enough to sing this un-self-consciously. Good thing. Final track Bianco E Nero is sung in Italian and is sultry to the point of moist. This makes me turgid. Nice.
Right, you remember what I was saying about liking the sounds and not liking the order of the sounds? Well, unfortunately, this is where the good review ends and the middling to bad review begins. Alix fall into the stoner rock honeytraps of lyrical banality and bland riffs. I mean, they've got a song called "Emotion". No one should call a song "Emotion". "Emotion" sounds like Kyuss playing the Crucial Taunt (Cassandra's band in the Wayne's World movies) version of "Ballroom Blitz". Which isn't as much fun as it sounds because the song is called fucking "Emotion". "Emotion" is totemic of this album in that any criticism of "Emotion" can be levelled at the album as a whole, inasmuch as the ambition of the band overreaches the songs' ability to sound fresh and it's all taking itself just a little bit too seriously.
I wish bands will wake up one day and realise that not all riffs have to stay in the oven until they come out "desert baked" because people have been playing guitar like that for about 5000 years and it's getting a little bit boring. Best track on the record is the title track, which transcends the faux Mexican/droney bottom string hegemony and struts about like an early Queens of the Stone Age B-side. One for those who dig the real shit then. Even though I would goose him for coin, Albini doesn't really shine here, although it's not really the responsibility of the producer (or engineer as he insists on being credited) to make or break a record.