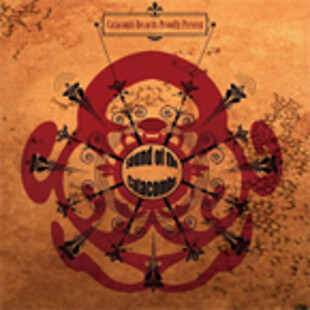 The stoner/doom/sludge/psych... whatever you want to call it underground seems to be exploding at the moment. One look on Myspace reveals any amount of wannabe dope lords trotting out sun baked riffs and any amount of small labels willing to release them. For a new label to produce a compilation of international bands for their first release is a rare and brave move, for it to be such a triumph is a masterstroke!!!
Suns Of Thunder's opening gambit of 'Gimme Some More' couldn't be a better kick start for this album. Its balls out sound clash of Fu Manchu meets Deep Purple sets the benchmark for this entire release. It's going to be a fun ride!!!!
Leicester's most persistent doomsters…10 years and counting I believe…weigh in next with 'Primitive', a plaintive concrete heavy howl from the Sabbath undergrowth and rather impressive it is too.
Multiculturalists Obiat offer up one of the album's highlight's next with 'Farewell to Mankind'. It's stoner/doom Jim but not as we know it, bordering on prog it piles on the riffs and builds in atmosphere…hopefully they'll get a move on and get the album finished soon.
It's impossible for me to be objective about the Grifter track 'Slow Boy' as I'm in the band. Needless to say I wouldn't be in a band I didn't think was totally awesome and this cowbell driven slice of riffage stands up pretty damn well I reckon!!!
Armando Acosta, drummer with the legendary St Vitus lays down the backbeat for Dirtyred next. They take the Vitus blueprint and spice it up with some southern fried grooves and the sensual vocals of Jennifer Star to make 'War is Made By Gentleman' another in a long list of highlights on this album.
Things get ugly now as Godsize kick off big time with 'Pure Aggression'…it does what it says on the tin!!! Mighty Sabbath riffs vie with Iron Monkey style vocals for a prime hate-filled slice of sludge.
Spacecharge offer up the first of the weaker moments on this release. With a production thinner than a hooker's hymen and a lumbering unfocussed doom workout the attention wonders a bit. There is a good band in here wanting to get out…but not just yet.
No fear, the quality rises again for one of the better known bands here, Abdullah whose Motorhead plays doom headrush of 'Long Gone' takes your legs off at the knees.
Self proclaimed psych/prog/doomsters Aluna divide opinion. Personally I love 'em and 'Higher' is one of their finer songs. The production is a little on the wispy side but the riffs and Soph's seductive vocals make this another of the highlights for me here. (Great live band as well folks!!!)
Chris, bassist with Taint, batters the shit out of a drum kit for his other band Black Cesar next. 'Freerange Woman' is a heads down, teeth bared wrecking ball of blackened punk sludge. Not the most memorable track on here but certainly one of the most energetic and frantic.
Oh dear, it all goes a bit wrong now as I am Colossus show that their track 'Revelation' is anything but!!! Surely in a recording studio it would be possible to at least get the timing right but from the off this is a sloppy, out of time piece of pointless black doom with vocals that sound like a terrier with its cock caught on some barbed wire. Every compilation has to have a real clanger of a track and this is it.
Fortunately the album's stand out track is up next. Sonic Lord's 'Come Back Down Again' is as brutal as doom can get. The Iommi on crack riffs back up a vocal that is pure pain…a primal scream from the heart of sludge. This track is relentless, like having your face ground into broken glass…and pain is so close to pleasure!!!
You should all know Bristol's finest psychedelic smokers Gonga by now. 'Sentinel', featuring departed vocalist Joe Volk, offers up something truly unique…psychedelic folk doom anyone? This track won't be for everyone, especially those hoping for a more full on tune but me, I love it!!!
The Harold Wartooth bring the rock with 'Flight of the Bitch'. One of the more straight ahead bands on this compilation which comes as a breath of fresh air as they rock through some old school riffery.
Queen Elephantine are a bit of a Marmite kind of band, love them or hate them with their Pink Floyd inspired psychedelic doom. A great band in their own right with their extended tripped out epics that mix crushing doom with an ambient, experimental vibe, I'm not so sure they sit so easily on a compilation such as this. Take a listen then check out some of their other stuff to make your minds up.
El Topo are ok, just ok. They tick all the stoner boxes…fuzzy riffs, driving drums...etc but 'Let's Ride' doesn't really offer up anything memorable nor anything offensive.
'On The Eve' by Mos Generator rounds off this marathon riff-fest in fine stoner style with a tune that builds from humble beginnings to a giant of Monster Magnet proportions.
So there you have it, 17 tracks of mostly high quality and varied music. If Catacomb Records can keep uncovering this kind of talent and putting together quality packages such as this, even in these recession veiled times they should rise to the top of the heap.