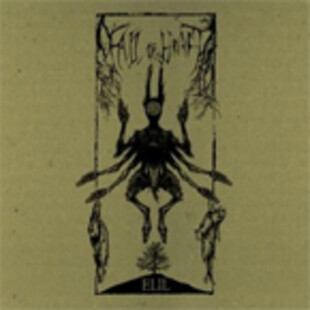 Fall of Efrafa have been one of the most interesting bands to watch progress in the last few years in terms of work ethic, seeming to produce album upon album of serious quality, but at the same time maintaining a DIY theory for all their output.
They are perhaps one of the few bands doing things this way completely in 2008 and regardless of your thoughts on DIY and what it has come to mean (a nice concept in theory and not in practice, or a still-sacred way of doing things that is to be admired) this band have done things their own way and have succeeded.
This release entitled 'Elil' is the second release under the proposed trilogy of albums comprising their own vision of the work of Richard Adams' political novel 'Watership Down'.
'Elil' comes after the first part of the trilogy, 'Owsla' and along with the next, yet-to-be-released 'Inle' forms the 'Warren of Snares'.
As concepts go, it's rather ambitious, to give a good portion of your creative output for three albums to a single novel seems stretching it, but FoE manage it in spades.
From opener 'Beyond The Veil' it is clear FoE intend to create a foreboding atmosphere, the explanations of the lyrics on their website outline that the songs are focused on the shame that man has bought on itself through negative aspects like religion, control, etc.
A spoken word intro from philosopher Richard Dawkins over stark, picked notes begins the album and sends over a tangible bleakness in the first few moments, before a rolling, post-metal riff comes in with the screamed vocals often associated with the genre.
That is not to say FoE are a copycat affair, their music flows through several stems of influence, the undeniable stamp of bands like Cult of Luna, Deadbird and the like are present, but then so are the intense, angry spirits of bands like Remains of the Day and His Hero Is Gone, particularly prevalent when they choose to up the tempo, d-beat slips its dirty rhythms in now and again and it's a unique, engaging take on the old adage.
All three tracks here are about twenty minutes each and explore every possible angle of their concept, shifting from lone guitars picking out minor chord patterns to full-on breakneck sections where the band sound their tightest, second track 'Dominion Theology' has an epic sound to rival even Neurosis in terms of life-affirming vastness.
Closing track 'For El Ahraihrah To Cry' features another spoken-word section from Richard Dawkins, this time extolling the virtues of atheism and the fact we are lucky to be on this planet and the music has similarly epic scope. There is enough here to keep the casual listener entertained for the twenty minutes it takes up (no mean feat) but also enough for fans of the genre to get their teeth stuck into.
This is an album that could well change the way people play this sort of music, the amount of ideas thrown into the mix here is astonishing.