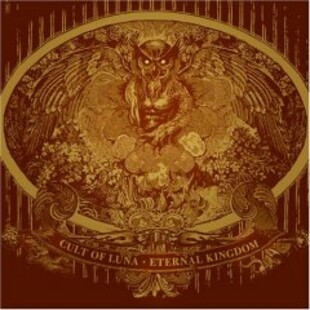 Cult of Luna are officially interesting again. With 'Somewhere Along The Highway' they seemed intent on simply boring their fan base into comas. Devoid of any engaging or recognisable songs to break the tedium, it could have been their death-knell.
With a concept that has almost infinite material, the title 'Eternal Kingdom' refers to a diary kept by an inmate of the former mental hospital where the band practice in their hometown of Umea, Sweden that the band found whilst exploring the site.
This is the much-quoted, but often untrue phrase 'return to form' for CoL, bringing the sound back to their finest hour ('The Beyond') and combining it with the incredible experimentation of their breakthrough ('Salvation'), with a burning rage underneath it all, 'Eternal Kingdom' could be their best album yet.
Beginning with the brooding and sprawling 'Owlwood' they go straight for the jugular with a collection of riffs that wouldn't be out of place on 'The Beyond' or even, dare I say it, Isis's masterpiece 'Oceanic', the constant chugging and openness of the sound owes a lot to production but this is the sound of a band mastering their collected experience, coming up to ten years as a band, its about time they made an album this balanced and crushing.
Album highlight is the incredibly paced 'Ghost Trail' with its strained vocals and soft, floating beginning, to its windswept and haunting middle section, all the way to its breakneck sped-up close. If you want a fair representation of how Cult of Luna operate, this is their exemplary track, with lyrics to match its impassioned delivery.
The album continues its course through miles of new ideas, from the use of brass on interlude track 'The Lure' to fleeting synths that build the atmosphere and pathos of 'Mire Deep'.
Gone are the tracks that stretch out for endless repetitive noodling and self-satisfaction, and here we have a new, inspired Cult Of Luna who write songs, not jams, not tracks, but actual songs with a focused purpose and drive towards their ends.
Even a hint at primitive drum and bass makes its way into second interlude 'Oserbotten' before the calming and reflective 'Curse' explodes into a living, breathing beast. Closing track 'Following Betulas' has the grand, precise rhythm of a military march, complete with horns towards the end, its the fitting end to an album that needs to be heard to be believed, for 2008 Cult of Luna are the most promising they've ever been.