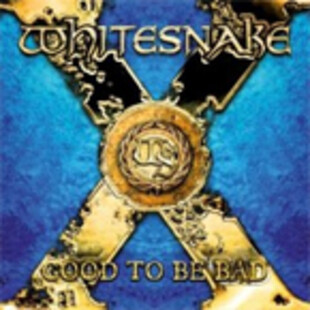 While reading the sleeve notes to the latest Whitesnake Sex rock album 'Good to be Bad' I had an epiphany. While I read them I was thinking this man is clearly insane and a fool . A few examples from his 'thanks' that tickled my tickle are 'Spirits of Strength and the Spirits of Soul, The sacred & Magical Lake Tahoe and Mozart ' Also he tells us 'Don't let anyone make you afraid'; Ok Dave we won't. But then it suddenly dawned on me...I AM THE FOOL. If I was in the same position as the Cov then I would be writing the same shit as he is writing. Yet while he sits at home drinking wine and listening to soul music preparing for the upcoming Whitesnake tour I'm sat at my desk at work talking to accountants. He wins, the Cov fucking wins.
Let's get to the sex rock meat of Coverdale's latest hip shaking rock mammoth. But is it hip shaking? Is it mammoth? It sure has it moments. Whitesnake excel at the genre known as 'Fast Rock'. On the track 'Lay Down your love' they lift straight from Led Zep's Black Dog. In fact think Black Dog with polished balls of fast rock. I like this track, I like it a lot. The title track from this bastard is a catchy little mistress with the chorus of 'Its good to be bad, bad to the bone' sticking in your brain as though Whitesnake have stuck their Whitesnake in your head and shot you full of sex rock soul music juice....imagine! 'Call on me' kicks in with a swinging groove a la Swing rock. In this song Dave tells us that he is prepared to 'Turn back the hands of time to make you mine, sweet and fine'. I am not a gay man but at this point I really want Dave to hold me...just hold me, nothing else.
There is some pap on this release, 'All I want and All I need' is one such song. It's a ballad that sound like it has been lifted from 'The Best Soft Rock album in the world...EVER'. It's about loving your woman, which is fair enough but I feel that if I sang this to my woman or had a meal and played this song to her then she would laugh hard in my face and I would feel a fool. Coverdale don't make me feel a fool. I'm sure these are not his intentions.
On 'Got what you need' Dave has what we need, he has it and he wants to gives it to us. Dave also sounds a lot like Wizard Robert Plant in this fist pumping Friday night rock out which is no bad thing. He also tells us that he wants to be our 'Midnight Lover'. Obviously Dave does not have to go to bed at 10 to be up at 6 to beat the rush hour traffic as my girlfriend does otherwise Dave would not be going on about such nonsense.
If you are not a fan of Whitesnake then don't get this. If you are a fan and like good dumb fun sex rock then get it. Ideal BBQ music.
Cheers.