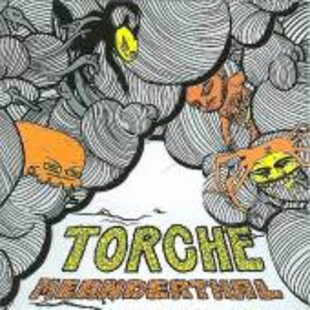 This is a band for whom the epithet 'important' really doesn't seem that pretentious. The word innovation is bandied around a lot these days, but when you can take the heaviest of guitars and marry it with the most joyful pop melodies, without turning into a crowd-pleasing act or compromising one iota, you've really got something close to it.
Over two albums, and one mini-album, this band (ex-Floor, purveyors of the ultra-downtuned 'bomb string') have carved out a very special niche. As melodic and uplifting as the Beach Boys or the Police, more poundingly heavy than most 'metal' bands. So, they have pushed things way forward, but does the somewhat clunkily-titled Meanderthal fare against their mighty, definitive debut effort?
Well it starts in typically individualistic fashion, with an instrumental, and this really puts their cards out, despite being on still fairly fuck-you label Hydra Head, as a complete commercial veto. Yet when it's all about the downloads these days - does it matter about hitting them with 'the single' straight off? I think this band might be more concerned about making a piece of art - heavy-as-hell art, but art all the same.
What it's really about with Torche is the hard-to-miss details that make them always sound fresh - the way the multi-tracked voices at the very start just last for a second before the band comes crashing in. The way the intricate tapping guitar is undercut by beautiful high sheets of noise towards the end of opener 'Triumph of Venus' (yes!).
Then 'Grenades' perhaps offers Torche-by-numbers, but that's like saying Beethoven's 5th gives you Beethoven by numbers - yes the comparison is valid, this is a new kind of classic rock, forget doom, forget metal, this is epic life-affirming music that needs new categories to try and box it into. Perhaps it doesn't.
After that invigorating blast, it's time for a real sucker punch with 'Pirana', which is probably the most in your face punky track Torche has laid down, next to 'Safe' off the self-titled. And on the details front, this is about the precision-bombing riffs, like Optimus Prime playing death metal.
'Sandstorm' does those Police meets Jane's Addiction meets Helmet dynamic vocals, to a somewhat obvious extent for a minute or so, but satisfyingly so. Then at 1.07, just as it's getting cosy, they pull out one of their brilliant pauses to inject the pure adrenalin for the next minute to fly by.
While the first few tracks are very good, what's special about this album is that it constantly builds the quality and keeps ratcheting up the excitement in a frankly sexual manner. And it's all short bursts (Torche's trademark) - better for you, so the experts say. The longest song is 6.25 but that's about 2 minutes longer than anything else.
On 'Healer' the wooah-ohs are somehow power-pop-punk, but never too perky, but the best is still to come.
That's 'Across the Shields' which comes on like early Queens of the Stone Age, without the self-consciously cool button pressed. This is a throw your hands up and dance like an idiot tune, like Groove Is In the Heart, or Twist and Shout. It won't be in the charts but it should be!
The album's getting more interesting- 'Sundown' almost sounds like Godflesh or Shellac with its morose open chords.
'Without A Sound' could be a simpler, less fussy The Fucking Champs, and it's a good filler - you need a breather on a breathless album like this.
Because here comes 'Fat Waves' - which is like the Foo Fighters if they weren't trying so painfully hard. It's the most commercial song on the album, but still doesn't make your teeth itch, like say Sum 41 might. It sounds honest, uncynical, unlike so much pop fodder.
Then comes the long, medium-paced riff mountain that is 'Amnesian' which is pretty much the distillation of everything great about this band - a heavy but somehow well-meaning assault of sound coming at you with a big smile on its face. Like being thrown around by a recently de-clawed and de-toothed polar bear, possibly.
So is it better than the other two albums? Not important. It's certainly more self-contained, less expansive than the first, great album, but that doesn't make it any worse. It is just another great album from these guys.
Oh I forgot the last tune, the title track which sounds like an iron giant chomping cars between its teeth. And the artwork by Aaron Turner, which sees the Isis frontman and label head possibly relaxing a bit and letting life be a bit more fun. Torche help you do that.