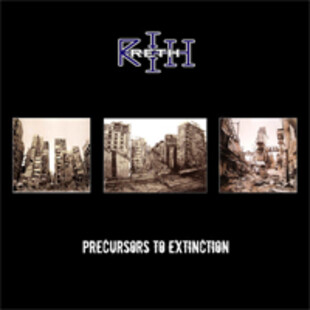 Anyone who has had the pleasure of witnessing Reth in a live setting will know what they are capable of. Having cut their teeth on the UK underground circuit, it would seem they are now more than ready to take on the major players. Their blades sufficiently sharpened and prepped for surgery, Reth gleefully make an incision that will require stitches, delivering a 16 minute onslaught of precise surgical brutality in the form of 'Precursors to Extinction'.
'Precursors' has technical wizardry in droves, whether you're transfixed by Jim and Wellsy's ultra tight, stop start fret board gymnastics or Smith's unrelenting blast beat infected grooves, there's always more than enough to keep you occupied. Bass lines that border on the right side of ridiculous should also be enough to turn any aspiring bassist a worrying shade of green. Add to that a fittingly acerbic vocalist, who is capable of everything from strained high register screams to subsonic gutturals and the picture is complete. In short, we are dealing with highly capable musicians who that take their craft seriously.
Listened to in its entirety, 'Precursors' is an adept exercise in tension and release, initially delivering short sharp bursts of venomous savagery that finally give way to the closing oppressive sludge dirge of 'Decathexis'. Reth boast a diverse yet coherent sound, amalgamating grindcore's frenetic pace with death metal's sense of structure and song writing. The aforementioned forays into sludge and the occasional smatterings of ambient noise only serve to add depth to their sound.
For all their frantic, attention deficit riffing, there's still a strong sense of melodicism and dynamic payoff. Reth have found a highly potent middle ground between chaos and order that will no doubt appeal to a wide range of extreme music fans. In terms of sheer musical quality, 'Precursors' could easily be placed alongside works by genre stalwarts such as Cephalic Carnage, Cryptospy and Discordance Axis.
Production and recording duties were handled by Rob of Executive Distraction Tasks, ensuring that everything sounds as it should. The overall mix is powerful and retains just the right amount of clarity, without ever sounding too clinical. An impressive feat given the highly complex nature of the music.
If Reth continue in this fashion, I'm sure their popularity will continue to grow. I'd hazard a guess that a deal with a suitable label can't be far off now. Be sure to take this opportunity to check them out before they're a household name.