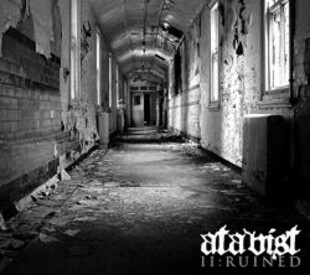 After what seems an age since their debut, Manchester's Atavist return with their second full length opus out on the highly respected label Profound Lore Records. 'II : Ruined' begins with an eerie, pulsing intro which sounds like it's emanating from some dark, undiscovered place deep within the earth.
Following this, the opening notes of the second track 'II' murmur out quietly, ever building the oppressive atmosphere until the riff shatters what has come before, like a firebomb through a church window. The riff is massive - a primal, gravitational force which is physically encumbering to behold, especially when it speeds up and achieves brain-spine impalement status. Clean guitars are then used to bring the atmosphere into an ambient drone as the song gradually traverses back up the dark stream of primordial ooze from whence it came.
Although there aren't any 30 minute songs on display this time around, the 'Khold Void Doom' proponents deliver a lengthy journey with 'III' which is just under 18 minutes of snail-paced despondency. 'IV' sees a more experimental side to the band; the repeating of a single, atmospheric riff through a clean guitar is complemented by the addition of archaic piano notes contributed by ex-Iron Monkey and current Crippled Black Phoenix member Justin Greaves. Acting as a midway point and bridge between the darker tracks, this instrumental is extremely effective and offers the listener a brief reflection on what has passed, before they are once more compressed by the oncoming intensity.
'V' features several shifts into faster, sludgecore like tempos and the most groove-laden riffs of the album whilst 'VI' again shows the band's experimental and progressive leanings, initially ascending toward the sun via calming chords and a clean vocal before crashing back to earth in a mangled wreck of feedback and a blood-curdling "Die!!!!!". Included at the end of this harrowing journey is a cover of Grief's 'I Hate The Human Race', which is a misanthropic anthem if ever there was one, delivered through the atavistic birth canal it sounds as truthful as ever.
'II : Ruined' is a deeply engrossing work with an organic production and a wealth of human emotions communicated throughout. It is a worthy successor to the band's debut and is sure to bring them more deserved recognition and cult status on the underground heavy music scene.