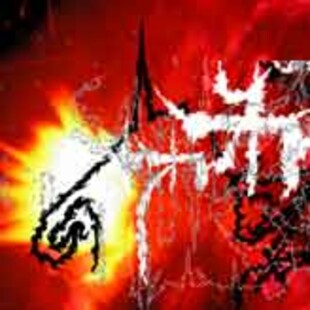 OK, OK, so pretty much everything I've reviewed I've kind of thought I might not be reviewing something the majority of you NineHertzians would enjoy. Right, well fuck that, if you don't like these guys I'll be a tad surprised!
Lesbian are basically a psychedelic stoner rock band who throw in some doom (old school and new) riffs and occasionally have quicker passages that sport black metal vocals. Nicely nicely then. Lesbain are one of those great bands who sound completely of their time but also have the knack for respecting and being influenced by the past, but never plagiarizing it.
Four tracks are on offer. Ranging from nine to twenty five minutes. But to be honest it doesn't matter about tracks or length. It's all ace. It features stunning artwork by Steven O'Malley that actually looks nothing like SOMA work at all - it makes sense when you know, but it's not instantly recognizable as his.
Anyway, awesome record that really spaces you out, rocks like a bastard, and has some original touches that makes it stand out from the crowd in its own right, rather than just being a great example of a genre of music.