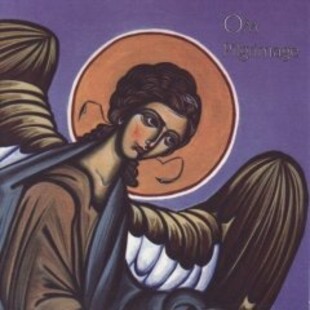 I never really got into Sleep when they were around, yet when 'Variations on a Theme' came out I was eager to check Om out, and I thought it was brilliant. It was heavy while also being really mellow and spaced out, almost like meditation music that would crush you. Then came 'Conference of the Birds' with it's more strung out and relaxed sound. I was lucky enough to see them at Roadburn this year and even though there were reports that they didn't enjoy the set due to sound difficulties they still sounded 100 times bigger than most of the bands that came before them, no small feat for a two man band.
So here we have their latest record, out on the spiritual home of everything slow and heavy, Southern Lord. 'Pilgrimage' is only four tracks and roughly half an hour long which might seem pretty short coming from two thirds of the guys who wrote 'Jerusalem' / 'Dopesmoker' but as every man knows, it's not the length, it's what you do with it that counts. The tracks also come in long short, long short, so I would expect a vinyl release for all you record nerds / collectors as it seems perfectly set out to fit a long 10" or short 12".
The title track is really low and gentle with the trademark monk like chant style vocals and simple groove keeping your head slowly bobbing along. This kicks into the all too short (5:50) 'Unitive Knowledge of the Godhead' where they pick up the tempo and the volume. Volume here is the main thing, much like gabba and dub, Om produce the sort of music that should be played so loud that it starts to affect your breathing. Unfortunately I don't have a set-up that can do that and so I feel like I'm not quite doing this record the justice that it deserves. At the start of part two we carry on and even pick up the speed (though it's not exactly medium paced never mind fast) and the heaviness. The last track brings you back down to Earth with a controlled decent into the gentle rhythms we are accustomed to.
All in all a brilliant album though a higher volume and something double the length would have really made it a perfect album.