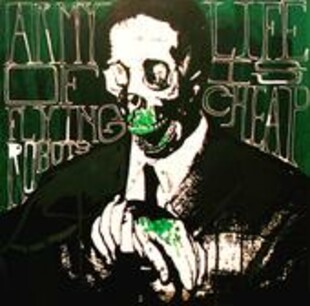 Army of Robots are like your favourite t-shirt... been around for nearly a decade, seen much action and reliable. Having gigged round the UK and Europe extensively for years now and thrilled crowds where ever they go. I always find it weird when people don't know this band. However, like tour partners Taint it's taken them 10 years or so to finally get round to making a full length record. They have released a few split 7" and 10" splits along with a compilation of all these released last year on the ever brilliant Super fi records. But now comes their full length and the wait has certainly been worth it.
What is evident from the off is this record has been worked upon during the years of gigging round. Tight as a gnat's chuff and fully realised well structured songs. It's the sound of how hardcore should be played. Tempo changes form insane blasts to mid tempo breaks... it's a rollercoaster of a record.
One comparison could be a less complex Converge I guess but this would really be doing the band a disservice... they are far from another one of the now numerate Converge wannabe bands. ...Robots are their own masters and have been for as long as I have known them. This is evident on the slow build into fast balls out hardcore of 'Embodiment' - my favourite track upon this record along with 'A Black Hole in One'... which has some of the best and intriguing lyrics I've read in a very long while.
Recorded at the mighty Stuck On a Name studio my only complaint would be the vocals stick out a little too much... but then I like the vocals to sit a bit more pretty in the mix... I guess that's me being anal about it as this really is a cracking record and the vocals are delivered in true venomous fashion. The panning on the guitars is superb, giving a really big sound to the whole album.
Along with Attack! Vipers! this band and this record really have re-gained my interest in listening to hardcore punk music and both have a healthy dose of metal to the mix. This CD also captures the feeling you get when you go to see this band live full of energy and vitally... 10 years in the making, but hell, the waits been worth it... lets hope its not another 10 years before the next one.