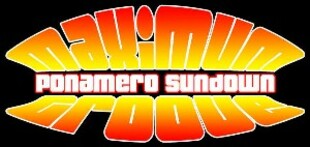 'Music influenced by 70's hard rock and the stoner rock scene' is what the press sheet says, accompanying this demo by Swedish band Ponamero Sundown, and it does exactly what it says on the tin. There's no messing about here.
'Freezing Cold' is the first track on offer, and it kicks off with a nice descending riff that reminds me of the intro to 'Black Knight' by Deep Purple, which is a good thing, and we're away. These boys definitely know the value of a good riff, and the ones on show get the feet tapping and the head nodding. The song gallops along and is aided by a great vocal delivery from Nicke Engwall, who has a powerful set of lungs, bringing to mind a younger Chris Cornell from Soundgarden. It really is a cracking song, as I've realized I've been humming the chorus melody to myself over the past few weeks.
The second track, 'Careless Whisper' isn't a cover of the George Michael classic, but another meaty slab of rock and roll. The drumming steps up to the plate on this song, with some insistent rhythms going on that really drive the song along when needed. A nice guitar solo from with some lovely wah gives it a lift around the 3 minute mark, nothing flash or fancy, just simple riffs that do their job well.
A special mention must go to the production on this CD, as it certainly powers out of the speakers with a nice slab of bottom end, and a warm fuzzy tone on the guitars.
So, there you have it, 2 fantastic songs with great riffs and great vocals, this is what rock and roll should be, simple, but effective and powerful.