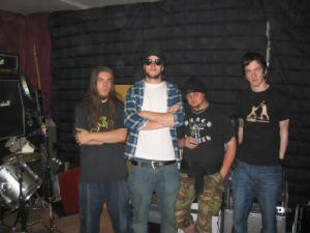 The Cosmic Vortex of Doom are a sludge four-piece from darkest Leicestershire who deal in stripped down, yet fully raging stuff in the vein of Iron Monkey and Black Sabbath, but have their own unique character by having psychedelic passages thrown into the mix, sounding very much like Cathedral or bands with a forest-dwelling, dopesmoking fixation. This is their second release and one that impresses. Opener 'The Castle' brings to mind early Down, or the sludge metal of bands like Godsize and Raging Speedhorn, and the production is certainly an improvement on their first release. The breakdown in the middle is indeed psychedelic, but never boring, a trap many bands can fall into.
Second track 'Maestro Of Evil Enchantment' sounds as pissed off as Soilent Green can be, and brings to mind Beaten Back To Pure, which can only be a good thing. The vocals on this track are the most striking part of TCVOD, both shredding throat work and a veritable growl permeate the heavy and tempo rich riffs, this song actually speeds up in such a way that when it reaches its climax, appears to be an almost entirely different song altogether, before bringing back the southern-fried sludge groove. Third track, and frankly daftly titled 'The Atomic Fireblast of Yargon' (almost Bal-Sagoth levels of mythos there chaps) comes in with a similar yet groovy sludge/stoner template that you can imagine people raising beers to in sweatboxes all over the country, before plunging into a Sabbath-like instrumental section at the end, imagine the old interludes like 'Embryo' and songs like 'Planet Caravan' and you get a good idea - fantastic.
Final track and most ridiculously titled 'The Magical Carpet of Mystical Hypnosis' is an 8-minute stormer that again follows a definate sludge/stoner path, but has its own character bubbling under, one of dare I say it? Classic rock? If this song was an entrance into a room, it would be decadent and confident. The second half goes all mellow on us however, an almost acoustic section with subtle marching drums is a nice way to break up the screams and riffage, the 70s stoner vibes on offer here are testament to how varied this bands music is. A final heavy flourish and its all over - try and pick this up if you feel you would benefit from some smoking music.