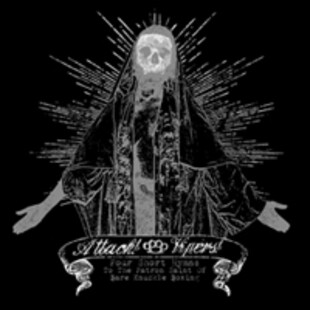 Hailing from the south coast and my home town of Portsmouth come the Attack! Vipers!
This their first release, a four track 7", is a sure fire statement of intent. Featuring Joey (ex Jets vs Sharks) on vocals, Ben (ex Jets vs Sharks) on guitar, Tom Hussy (ex Last Kiss) on bass and Mark (ex Thirst) on drums. All these guys previous bands were pretty special, I was a pretty big fan of Jets vs Sharks especially. But this release shows the band is more than the sum of its parts. The four musicians combine to make a powerful unit.
They play dark majestic hardcore with some political undertones (but never shoving it in your face like a lot of hardcore bands do), with some nice touches of dynamics and balance. There are elements of metal and hardcore combined in each song... from the brooding opener "Year Zero" to the bitter ending last track "Scraping the Bones" with its chanted chorus. Nearest bands I'd compare them to is Red Stars Parade, maybe with a more hardcore leaning and sense of dire urgency. And in fact they're my favourite of this type of band next to Red Stars Parade themselves.
At a time when I'm sick of hearing hardcore bands wheeling out the same shit all the time, Attack! Vipers! dare to do something with it and made my ears pick up, reminding me why I got into the genre in the first place. Like Ink and Dagger before them they have made me want to hear more of their dark and twisted tales. So I await their album which is due early next year with a lot of anticipation.