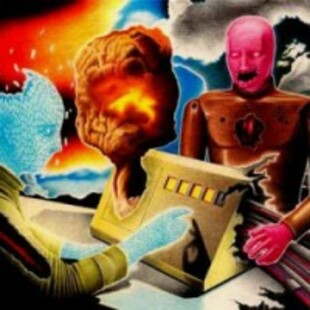 The press release accompanying Leeds prog-types Immune's debut album describes their music as 'an unearthly movement, that only after repeated listens begins to take shape'. For those unfamiliar with their influences, that may certainly be the case; but whilst this CD is definitely an ambitious effort for a band who only formed in 2002, it's fairly obvious on the first of those listens who they want to be.
Tool and Isis are the bands that first spring to mind with opening tracks (not the first as such, track 1 is the now-obligatory atmospheric intro) 'Human', and the equally bizarrely named 'Monkey'. Whilst the band are clearly not ones for ambitious titles, the music twists and turns in ambitious, but slightly familiar ways. The riffs in 'Monkey' appear worryingly similar to those found on later Tool records, and the drum sound is almost identical to Isis' familiar snare crack.
It's not all doom and stolen gloom though - 'To The Flux' delivers an industrial vibe that, while not exactly to this reviewer's taste, is refreshing and seems more at home with the band's own ideas. The use of electronica on this album makes a change from other Hydrahead-a-likes doing the rounds these days.
Unfortunately this isn't helped by the vocals. Whilst the high-pitched caterwauling certainly helps to steer the band away from their more prominent influences, it doesn't do them any favours in the listenability department, unless you're a fan of Dream Theater. I'm not.
It may sound like I'm giving them a beating, but this isn't a bad album as such - it's lovingly crafted, with plenty of texture and atmosphere; the artwork is striking and the production is second-to-none. Clearly, a lot of money has gone into this. I've a feeling the next album will be more rewarding but, for me, this CD feels like too many ideas, too many old, not enough new, thrown together and polished a bit.
My advice is give them a listen, and make up your own mind.