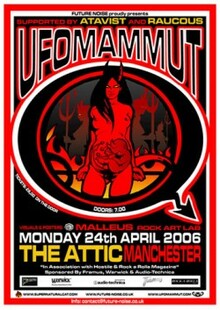 Having seen the two supports before, I knew this would be a pretty good gig, although I'd not really listened to the Italians Ufomammut before. The doors to the Attic in Manchester opened at 8. The venue was pretty small and I would guess there were around 40 people there. Raucous were first on, and delivered a solid performance of sludge/doom which is kinda like early Isis stuff (before Celestial) despite much of the crowd staying at the back of the room. The last time I saw them, the sound was pretty poor, but it was spot on tonight and it was worth the entrance fee just to see this band!
Atavist have just released their new album, and equipped with a new drummer (you certainly wouldn't notice!), took confidently to the stage. For me, Atavist are the perfect doom band - extremely slow, heavy and crushing music. The lead singer has a great stage presence and his vocals are screamed with utter conviction. The bass lines are often left to engulf the entire room (in such way that Sunn0))) have that sound too), creating a great sound and atmosphere.
Ufomammut began their set with a kind of space rock type sound (like 5ive), accompanied by videos projected onto the wall behind them to go with the music. They really got the crowd going, with some great headbanging riffs, and keeping it all varied with different effects on the guitars, ghostly distorted vocals, and changing tempos. After what seemed like a very short hour of them playing, they left the stage but everyone kept shouting for more so we were treated to a couple more songs after that.
Overall, it was an absolutely fantastic night with three on-form great rock bands, and although one could loosely group them all as "doom", they each had a completely different approach to it, and I certainly hope to see them all again soon!