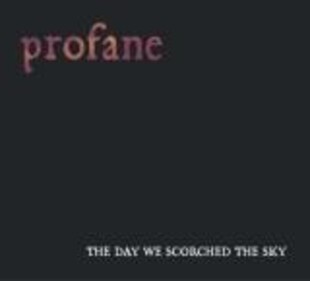 For a relatively unknown band, Profane have a pretty impressive pedigree already, having trod the boards with the likes of 27, 5ive, a lot of other bands with numbers in their names. Oh, and Converge. We like Converge here at ninehertz towers. Well I do. And cats.
From brutal opener 'Porcelain' through to the calm, awkward, Dredg* style movement of last track proper 'When the Corners Aren't Square', this album throws a bit of everything in to an all too short 35 minutes. The band are like hyperactive little monkeys, running round touching every base from contemporary hardcore, atmospheric rock, jazz and a load of other stuff I can't classify or be bothered to list. The problem with this approach is that it can end up sounding watered down and misguided, but Profane make the difficult jumps between styles sound painfully easy and only fail to nail the sound on a couple of occasions.
It's probably easier to say what I don't like about this album than what I do. Here goes; The vocals sound very mid-90s American grunge. Not a problem for most people brought up on a steady diet of Soundgarden and Stone Temple Pilots, but it can grate on some ears. Just don't mention Scott Stapp. Not that it matters for the heavy screaming parts, as vocalist Phillip Bretnall sounds like he's about to cough his spleen up, or at the very least make a horse do a poo by shouting at it. As mentioned before, the more technical music parts can sometimes collapse under their own cleverness, but these parts are rare, and for every one that fails there's 3 that sound brilliant, like the middle section of the albums title track.
Album highlights are 'Sleep Now Complete,' another mid tempo number with some nice clean guitar work interspersed with a big, epic heavy chorus and the aforementioned 'Porcelain.' It's hard to find fault with this, an impressive debut from a UK band still honing their sound and evolving. Add this great disc to their dilligent touring schedule and we here are ninehertz will be raising a cold glass of milk to them next time we hit the pubs of Sheffield. Or if the pub's out of milk, Guinness.
Dredg are a massively underrated band from Los Gatos, California. Go buy 'El Cielo' and 'Lietmotif' right now.